The Muthurajawela bird sanctuary has become a serious, and foul-smelling, health hazard – ever since it became a popular dumping ground for garbage and waste materials.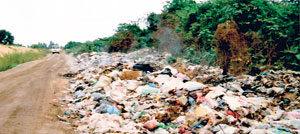 Visitors to the marshes see a river and a sea of plastic bags and other rubbish. Pix by Sarath Chinthaka
According to Hugh Weerakkody of the Ministry of Health, Wattala, residents in the Muthurajawela neighbourhood have to endure foul odours and a mosquito menace of dangerous proportions.
It is understood that the Muthurajawela health hazard has been brought to the notice of the President and the Minister of Environment.
Sarath Kumara, a Muthurajawela resident, said he and his neighbours have been plagued by the pollution, foul smells and mosquitoes for several months, and that many, children in particular, have fallen ill as a result.
One housewife complained that her kitchen was full of flies, and that the kitchen utensils were a mass of flies. The nearby Colombo-Katunayake expressway is polluted with waste materials, such as plastic bags and empty bottles, and a lot of residents have come down with dengue fever, she added.
When the Sunday Times contacted the Wattala Municipal Council, the council chairman, D. Alwis, said garbage disposal in Wattala, which is in the vicinity of the famous Muthurajawela marshes, was being handled by a private company, and that this company had to take the blame if there were any garbage disposal problems.