A relatively new school, Vidura College Colombo, is expeditiously making a name for itself in sports. Having been established in 1999, the English medium national school has excelled in many school-level sporting tournaments such as cricket, basketball, netball and badminton.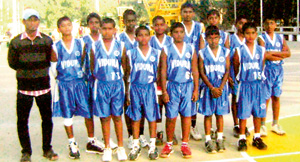 Under 12 Basketball Team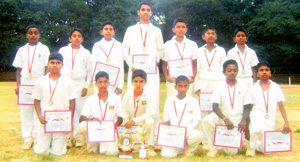 Under 13 Cricket Team that toured Bangalore in December
Cricket, being the school's main sport, has produced highly skilled young players who have proved themselves in local tournaments as well as in tournaments in Bangalore, India. The most recent local matches were under 15 and under 13 games that the school had organised. Participating schools included Piliyandala Cental, Mahanama College and Lalith Athulathmudali College.
Demonstrating their cricketing prowess in India, the school team was invited to play in Bangalore by the Best Cricket Academy in August of last year. Four months later their under 13 team was invited yet again to participate in interschool matches organised in Bangalore by the YMCA Cricket Academy. The Vidura boys went up against St. Joseph's High School Bangalore, St. Xavier Bangalore and St. Michaels High School.
The school's star players who have made their mark in the local and international cricket sporting sphere include all-rounders Keshan Abeywardena of the under 13 team and Kaviska Peiris of the under 15 team. During the Bangalore tour organised by the YMCA Cricket Academy, young Keshan got 12 wickets in 4 matches and acquired a top score of 50 runs not out. He was awarded 'best all-rounder' for the tournament. Kaviska scored 400 runs in 5 matches and got 12 wickets as well.
While the school has excelled in cricket, they also have a competent basketball team. However, to date they have mostly played friendly matches with local schools. The school's under 15 team recently played against Trinity College Kandy, Royal College Colombo, Prince of Wales and St. Joseph's College Nugegoda. The match against Royal College was a close game and the Vidura team emerged triumphant against St. Joseph's College Nugegoda; during the matches.
Just as athletically skilled as the boys, the girls of Vidura College are spearheading their netball team in local friendly inter-school matches. Some of their key players are in the under 15 and 17 teams. These players include Vinu Jayatunga, Pamodhi Gamage and Shalini Jayasooriya to name a few. The girls have played friendly matches against Piliyandala Central and Sirimavo Bandaranaike Vidalaya.
The school's badminton teams are also progressing steadily, as their under 16 team won the D Division and the under 10 team fought through to win the C division. Their key badminton players include Ransika Liyanage of the under 15 team, Eshani Palihena of the under 13 team and Hasara Wijeratne of the under 12 team who is also a member of the Student National pool.
According to the Head of the Sports Department at Vidura College, Upali de Silva, the school's sporting success can be attributed to their sporting philosophy, which advises students to "play hard, not to be selfish, bring honour to the school, always obey the official's decision and be disciplined".
The schools sporting teams are also staunchly supported and encouraged by their founder and Principal, D. G Sumanasena. Expressing his support he has provided the students with their own basketball, netball and tennis courts. Plans are also underway to build a swimming pool, which will undoubtedly give rise to proficient water sports teams.