The NIBM with its legacy of 42 years in the business of training and development and its vision of becoming the best management education institute in Sri Lanka offers you unmatched opportunities in Management and IT education in Sri Lanka.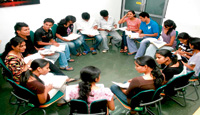 The stability of being a government institute and the customer driven philosophy of the modern business world, which we have adopted, means that well recognized qualifications at reasonable cost are being offered to the employed as well as to the school leaver to obtain the knowledge as well as the practical aspects needed for professional and personal development.
Today NIBM has been ranked as one of the best business education Institutes in the fields of management and IT and it has become the smart choice for students in Sri Lanka in terms of cost effectiveness, State - Art of Teaching Technology (SATT), international recognition and the proven stability.
NIBM makes the difference
We teach our students not only theories of business but also how to put them in to actions in real life. This is where we make the difference. Our students possess all required knowledge, skills and right attitudes to take current challenges in the industry. Being knowledgeable is not enough, if you are unable to convert knowledge into practical life and actions. Being able to do something is not enough, if you are not capable of doing it accurately and wholeheartedly to solve problems of your clients. NIBM is a problem solver and a provider of solutions for its clients. It is the place where students are groomed with all personnel, technical and conceptual competencies to make their professional lives better.
NIBM to touch the hands of school leavers in 2011
It is with full of love and affection, we invite students in the country to experience the real business education at NIBM. We at NIBM simply take you through a virtual journey of universal knowledge and the wisdom of the business and IT education. IT will teach you on how to make connections by reducing distance and time between B2B, B2C, C2C and S2S while business management provides the knowledge on how to make products and services cheaper, faster and better.
Quality of education matters a lot in taking your children to a greater height. We request parents in the country to take a wise decision on the path of the education of your sons and daughters not only looking at the title of the course but also by analyzing the recognition of certification process and the quality of the academic life they are going through.
Five great reasons to study Business Degree at NIBM
You will be studying at a Business School with an outstanding reputation
Ranked as a leading Business School in the country for training Business Managers and Executives, and rich in academic excellence - 42 years of experience in teaching and producing business management professionals
NIBM offers a truly global education with internationally recognized and professionally accredited courses
15 years of experience in offering international degrees in IT and Business from world renowned University College Dublin, Ireland, Limkokwing University of Creative Technology in Malaysia, Victoria University in Australia.
Employability of Graduates
NIBM is a well known and proven national business school of the country for producing employable graduates who are fully employed and placed in executive positions in reputed business organizations in Sri Lanka and abroad.
Stability and reliability
A fully State-owned National Business School, governed by a reputed Council with an eminent group of professionals internationally recognized and accredited courses with a globally recognized quality assurance system. University Grant Commission (UGC) has recognized NIBM as a degree awarding Institute in Sri Lanka.
Faculty and teaching quality
Facilitation and coaching students through a well experienced faculty consisting over 220 Internal and External Consultants who are academically and professionally qualified in the field of business. NIBM is a National Business School where students are provided with the right blend of academic and practical experience.
Finally, you'll need to determine the value of the programme and "Business School" you are considering. If you are searching for a big push that fast tracks your career, snatching a business degree from one of the top business schools in the country may be the ticket"