Major Specialisations in Accounting, Management, Information Technology, Information Systems, Hospitality Management, Software Engineering, Multimedia & Travel & Tourism…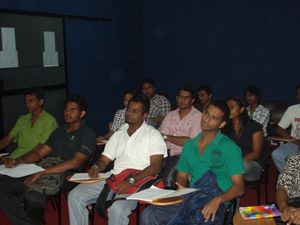 Jeewa Australian Education Centre (Jeewa), a pioneer education consultant has touched another milestone by Launching AUPP off- shore campus in Sri Lanka. AUPP (Australian unified pathway program) has been operating the most successful and dedicated pathway program in India since 2002 and now it has come to Sri Lanka in order to show the correct pathways to Sri Lankan students.
About AUPP:
AUPP is a Largest Pathway Program that provides block credits transfer programme to the students. Through this programme a student can study 1 year full time in AUPP- in their own country and can complete their rest of the Studies overseas with the Partner Universities / Institutions associated with AUPP. Globalization of education is a phenomenon, which has become an all-prevalent issue these days. The boundaries of the nations in education field have shrunk; the world has become a simple big nation as far as the education is concerned. The "search for excellence" has resulted in more & more students seeking greener pastures for studies. AUPP helps Sri Lankan & Indian Students explore the possibilities of International Education & prepare them for a highflying Global Career.
Benefits of studying at AUPP-
AUPP is the largest credits transfer programme
AUPP is one program for several universities and countries.
Huge cost saving
International qualification standard followed
Important time saving
Excellent support services
Complete visa assistance by approved agencies
Access to top ranked Universities / Institutes
Unique competencies & job -oriented based qualification for the first time in Sri Lanka.
Get enough time and support to increase your personality skills (English and personality)
Support services – Airport pick ups
Accommodation, personality grooming, job placements assistance.
As you will be already studying International qualification standards, you will have better chances ofhaving a part time job once you will reach Overseas
First part of the International studies can be studied under their parents' supervision.
Flexible Delivery and Assessment—AUPP is committed to adopt flexible delivery & assessment
methods for training students for dynamic global jobs.
Partner Universities / Institutions of AUPP UK
University of Chester
University of West England
Liverpool hope university New Zealand -
Waiariki Institute of Technology
Bay of Plenty Polytechnic
Nelson Marlborough Institute of Technology
Sir George Seymour National College of Airline, Travel and Tourism
Professional Bar and Restaurant School Australia
University of Ballarat@ ATMC
RMIT University
Flinders University
Also during the course of their study in Sri Lanka, AUPP students undergo a personality grooming & development through trained manpower consultants. & the emphasis in laid on overall personality development of students, their workplace training systems, the pattern of education etc.
Jeewa Australian Educational Centre, with the experience in the student recruitment industry for the last seven years is committed to give a high quality education & flexible pathways to students willing to study overseas. You are invited to experience the difference.