Devry University is proud to announce teaming up with Sri Lanka's Top most independent student recruiter to US Priyanthi Dissanayake (Scholarships for USA (Pvt) Ltd).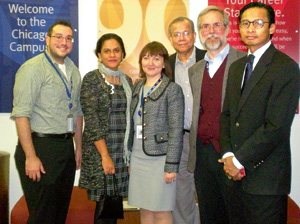 Picture shows from left to right Joseph Onorio - Dean of Student Central, Chicago Campus Priyanthy Dissanayake Marta Kurylo-Ginzburg - International Admissions Advisor, Chicago Metro, Amin Karim - Director of Academic Outreach, Dr. David Overbye - Dean of Academic Outreach and Henry Pineda - Associate Director of Admissions, Chicago Campus
The mission of DeVry University is to foster student learning through high-quality, career-oriented education integrating technology, science, business and the arts. The university delivers practitioner-oriented undergraduate and graduate programmes onsite and online to meet the needs of a diverse and geographically dispersed student population.
DeVry University, founded in 1931, is one of the largest private post-secondary educational institutions in the United States, enrollment more than 85,000 students in more than 90 locations system-wide.
DeVry University's Keller Graduate School of Management is one of the largest part-time graduate schools in the United States. More than 19,000 of DeVry University's students system-wide are enrolled annually in KGSM's practitioner-oriented business and management master's degree programmes.
eller Graduate School emphasizes excellence in teaching and service to working adults.
DeVry University continues to revolutionize education for our nation's youth and adult learners as it has for nearly 80 years, enabling generations of students to achieve their dreams.
DeVry University's new forward-looking academic structure includes five Colleges that house its growing list of degree programmes. These Colleges include:
College of Business & Management
College of Engineering & Information Sciences

College of Health Sciences
College of Liberal Arts & Sciences

College of Media Arts & Technology
DeVry University continues to evolve with the times to meet the ever-changing needs of today's student.