Table Tennis brought them together and the sport has kept them together. This is the deep rooted love affair that Buddhasiri Withanachchi and Namal Gunasekera share. Don't be misled by the latter's name. Even after marriage which has lasted for 23 years with Buddhasiri, Namal retains her maiden name mainly because she emerged as a TT star as Namal Gunasekera.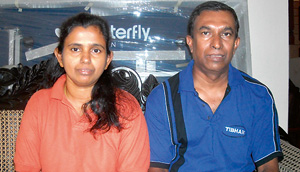 Namal Gunasekera and Buddhasiri Withanachchi.
The duo have roaring TT classes going at 259/5A, Sethsiri Mawatha, Talangama North, Koswatte, Battaramulla attended by promising tiny tots, whom they feel will keep the TT flag flying in the future.
They also spoke in glowing terms of Jagath Rajapakse, a former TT player who had returned after several years in France. Rajapakse intends setting up an International TT Stadium in picturesque Galaha in Kandy with P.D. Ratnasiri who had coached Sri Lanka's TT team for the SAF Games. This falls in the duo's future plans. For the moment they are happy doing what they like most … coaching youngsters.
Their love affair started when they were attending Dharmasoka College Ambalangoda. First it was their involvement in TT. Then they entered into wed-lock. Their affection for each other deepened as the years flew by. Then came the big day when their son Schan Witanachchi was born. He attended Royal College Colombo and in due course he kept up his tryst with TT not letting his parents' aspirations down and emerged as a leading player when he took the Novices All Island Championship. Currently he is studying in England.
Buddhasiri met Namal at Dharmasoka College Ambalangoda. Table Tennis paved the way for them to be together. Buddhasiri was an all-round sportsman at Dharmasoka playing Badminton, Cricket and Table Tennis. He also cracked an unbeaten 53 against Devananda in the Big Match. He captained the school badminton team in 1976 and was also a keen Junior Cadet with his battalion being adjudged third in the island in 1972. He had his first success in TT when he won the Under 12 National Championships. He attributes his success in Badminton to the coaching of W.T. De Silva. He went on to captain shuttle team at Dharmasoka with great success.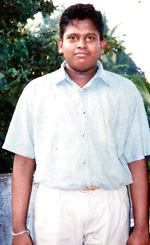 Schan Witanachchi.
The year 1978 was a memorable year where TT was concerned for him. He turned in a magnificent performance to unsettle Shabbar Hussain in the National Championships in Kandy and was immediately selected to the National Pool in 1978. 1980 saw Buddhasiri touring Nepal with the national Under 25 team. Success followed success. In 1988 at the Ashok Melvani Open TT Tournament Buddhasiri overcame Mahinda Dandeniya, the National Champion at the YMCA.
The Building Materials Corporation (BMC) beckoned him in 1979 and he joined their ranks with likes of N.H. Perera, Jothipala Samaraweera, Angelo Santiago and P.D. Ratnasiri. BMC dominated the TT scene with vim and vogour with such talented players.
That was not all, Buddhasiri picked up his cricketing talents there and took part in Nationalized Services Competitions and managed to beat Petroleum Corporation for the NSSA 'C' Division title.
Badminton too seemed to come easy for Buddhasiri as BMC won all titles on offer with greats in the Sport such L.R. Ariyananda and J.D. Chandrasekera giving him all encouragement.
The year 1991 paved the way for Budhasiri to be involved with TIBHAR, the renowned TT Equipment provider, appointing him as their agent in Sri Lanka. He entered the field of TT Coaching among youngsters and is responsible for unearthing the young talents of Chamath Sarath of Girls High School, Mt. Lavinia and Nithmina Mahanama of Wesley.During this time Namal was a quiet listener. Buddhasiri had been Namal's coach from schooldays,even before their affections to each other deepened.
However her sports qualifications seem longer than her husband's. Just to give a brief description of her achievements, she is a former National TT player (1975-2002) and captained the Sri Lanka women's National team from 1991-2000 and has represented the Sri Lanka National TT team from 1975 to 2002.
Her foreign assignments range from the World Championships in Sweden (1985), Japan (1991) and China (1993). She has represented Sri Lanka at Asian Championships - India (1980), Thailand (1982), Pakistan (1984), Malaysia (1990), India (1992), China (1994), Singapore (1996), Japan (1998), Qatar (2000). Commonwealth Championships - Singapore (1995), India (2001). Invitation Championships - Nepal (1980), Pakistan (1982, 1986, 1997), India (1984, 2007), Germany (1990, 1992), Thailand (1995), Maldives (1990). SAF Games - Colombo (1991), Bangladesh (1993), India 1995), Nepal (1999),winning one Silver and 7 Bronze Medals. Veterans Championships - Germany (2001), Australia (2001), Japan (2004). Local Performances - National Women's Singles Champion - in 1981 and five times National Women's Singles runners-up; 17 times National Women's Doubles Champion, five times National Mixed Doubles Champion and Veterans National Women's Singles Champion (2003, 2004, 2005, 2006, 2007).
Namal has represented Sri Lanka as Coach/Manager at the Taiwan International TT
Championships China in 2004, the Asian Games Qatar (2006) and the Asian Championships (2009). She has also completed the international TT Federation Level One Coaching Course as well.
Namal's association with TT has gone deep into her family as well. Her sisters Ganga,
Oshadie, Nelumi, Inuli, Umali and brother Anura too play TT with Oshadi having emerged as Sri Lanka's number four.
She has served in Lake House for 25 years (from 1983 to 2008) and is thankful for the management for having encouraged her sports career. Whilst at Lake House she won the Mercantile Team Championships for 17 years.