At 17, Kemalie Herath has already established herself as a constant and unyielding force amongst the raft of talented and emerging junior tennis players in the country. Considering she still has a few more years to go before she is the finished product, Kemhalie's already laudable career serves as a powerful testament to the deep reserve of talent she possesses.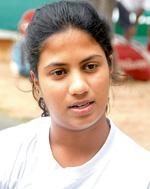 The teenager was initially drawn toward tennis because of her family's profound passion for both watching and playing the sport. Her undeniable natural ability combined with her family's continuous support ensured that Kemalie was provided with an iron wrought foundation that would aid her rapid progress up the rungs of the junior tennis ladder.
Competitively, she first announced herself with a solid run through the Novices Under 12 tournament, where she made it all the way to the finals before losing out. She improved on this landmark in 2007, when she ran home with the under 14 and under 16 titles in the Junior Masters competition. In that same year she also secured the SSC Under 14 trophy, before emerging victorious at the Moors SC Tennis Championship the following year.
Last year too proved extremely fruitful for the youngster as she stormed to victory in the SSC under 18 competition and emerged runner up in the open category of the Nationals and Otters Tennis Championship.
In the finals of the Nationals, Kemalie came up against the formidable Amritha Muttiah, Sri Lanka's leading female tennis player. Although the match was a single set affair, Kemalie did succeed in pushing Muttiah to a tie break in the opening set before falling 6-3 in the second.
The prodigiously gifted Kemalie has also represented the country in action overseas, booking herself a spot on the Junior Fed Cup team that performed admirably against the likes of Pakistan, Myanmar and Kazakhstan.
This exposure also revealed to her the shortcomings of many young Sri Lankan tennis players, including herself. "Many of our players lack proper consistency and tactical play. This is mainly because they have more time to work on their game because most of them are home schooled," Kemalie expresses.
To negate this difference in standard, Kemalie, a student of Ladies College who is faced with the challenge of juggling both tennis and her academic demands, puts in more than her required share of hard work.
She practices for six days of the week, four of which are spent hitting balls on the Sri Lanka Tennis Association (SLTA) courts in the stifling afternoon heat. She also allocates roughly an hour and a half each day to work on her physical fitness to meet the rigors of the modern game. Such dedication augurs well for Kemalie's future in the sport, a sport which she intends to continue even once she begins pursuing other avenues of her life.