The major criticism towards SLAM, even before it began, was that it was another GLF at a subsidized rate. But SLAM turned out to be unique in many ways.
A wide range of writers from the "has-beens" to the "wanna-bes" and the "will-bes" were at SLAM. While paying tribute to the well-known literary figures of Sri Lankan literature in English such as Ashok Ferrey, Carl Muller and Ameena Hussein etc., it also accommodated unpublished writers and poets and Sri Lankan writing in Sinhala through Liyanage Amarakeerthi and a few others.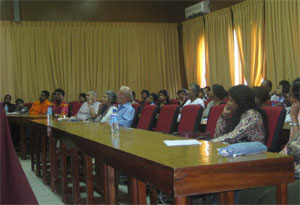 A section of the participants
The sessions kicked off with Ameena Hussein and Ayathurai Santhan reading from their work. Their readings were followed by the first panel discussion, dubbed "On Post-War Sri Lankan Literature: Where to?
Where from?" which had the potential to be one of the most fruitful sessions of the day, but somehow fell short of the mark. The two panelists, one would feel, were a tad vague and the discussion slightly moved "off-track". This was followed by Ashok Ferrey's lesson on humour in fiction, also not that well received by some members of the audience.
The scarcity of university academics present at SLAM seemed strange since the Department of English was situated just around the corner (actually down the stairs). Maybe SLAM was too "out-of-the-box" for some.
In the next session Liyanage Amarakeerthi read from his well-known novel Atawaka Putthu. The session was both entertaining and engaging. Vihanga Perera followed, reading from his two novels Unplugged Quarter and Stable Horses. He also read from his latest poetry collection Busted Intellectual. Vihanga's reading paved the way to a heated Q and A session with leading publisher Sam Perera taking exception with Vihanga's 'un-edited' writing.
A storm was definitely brewing both figuratively and literally. The final session was the most belligerent of the day. "Budding poets" featured Marlon Ariyasinghe, Namali Premawardhana and Ashan Weerasinghe (a published Sinhala poet). Namali Premawardhana read some of her personal poetry while Ashan Weerasinghe read from his collection eelamak wu premaya.
The grammar question became the focal point of discussion during the Q and A session. Ashan Weerasinghe declared that he does not write in Sinhala grammatically while Marlon Ariyasinghe read "I is wanting to Frotezt", a poem against academic writing and standardization of the English language and pronunciation in Sri Lanka.
Publishers Sam Perera and Juliet Coombe insisted that proper grammar was required in literature for professional and educational reasons. Their comments opened up a lively discussion on the necessity of "correct grammar" in fiction and poetry. One would think that this insistence of "proper grammar" is an obsolete area of discussion. After all, Joyce broke almost all of the known grammar rules nearly a century ago.
The first day of SLAM ended with a slam.
The second day began with a dramatized performance from Chucking the Dragon, written by the elusive Mark Wilde who, like Spiderman, still hasn't revealed his true identity. Mark Wilde was represented by Juliet Coombe and crew.
This was followed by Sivamohan Sumathy's theatrical rendition of 'love in the time of the city' from her collection 'like myth like mother'. When some members of the audience articulated that the performance was so powerful that it diverted the audience from fully understanding the lines of the poem, Sumathy casually replied "buy the book and read the poem". The panel "Putting Sri Lanka on the Map – Publishing and Publications Today" gave a brief, but a very insightful look into the business of book publishing in Sri Lanka by Juliet Coombe of Sri Serendipity Publishing house and Sam Perera of Perera Hussein Publishers.
Sam began, gallantly, with an apology to all whom he verbally abused the previous day. Carl Muller, then, read from his upcoming novel "City of the Lion". Being in the audience (just before lunch) listening to Muller's plea to take him seriously as writer of historic fiction one wondered whether this was the same Carl Muller that wrote one of the most hilarious novels in Sri Lankan English literature of all time. Unfortunately he was not audible - that, however, was the organizers' fault not Carl's.
Shehani Gomes read from "Learning to Fly" while Malinda Seneviratne, in the next session, read from his poetry. Malinda was questioned on why he hasn't published for the last 15 years, replied by saying that he wrote for his own pleasure. The final session of the day, Budding Poets Take 2, saw Dhanuka Bandara an unpublished poet along with two published Sinhala poets Isuru Prasanga and Mahinda Prasad Masimbula read from their work. Isuru Prasanga's poetry was witty and provocative. His collection of poetry titled "Paraga" marks him out as an emerging giant of modern Sinhala poetry. This session - well received by the audience was followed by an animated discussion. A fitting end worthy of SLAM 2010 one could say.
Despite few glitches here and there, SLAM was unique, varied, stimulating, thought provoking, compelling and entertaining - an apt alternative to those who aren't "Colombo" enough for "other" literary festivals of the island.