Collecting mementoes of Sri Lanka's past takes many forms: ancient artefacts, old books, Dutch furniture, Victorian watercolours, Chinese plates, old banknotes. Some collectors cherish century-old maps and vintage prints, or stamps from the years when Ceylon was part of the British Empire.
For 30 years I have been collecting postcards of old Ceylon. I decided to concentrate on postcards because not many people here and overseas seemed to be interested in them, and it can be a rewarding hobby. It's fun to track down postcards, fascinating to study them, and it's an intriguing way to learn about this country's past.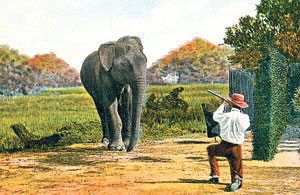 Elephant shooting (posed) 1903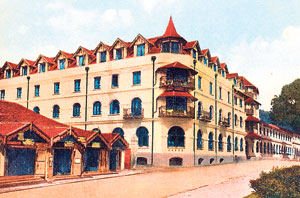 Queen's Hotel Kandy 1909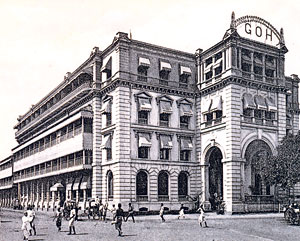 Grand Oriental Hotel 1909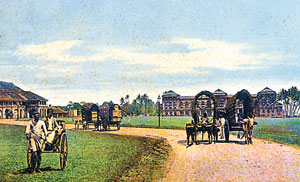 Galle Face Green 1909
Collectors of old postcards generally focus on a period when picture postcards were a novelty. That means the period at the turn of the 20th century, early 1900 to about 1920. This is because pictures on postcards that are about a hundred years old are fascinating views of a bygone world.
Instead of trying to collect all postcard views of that period, it's easier to concentrate on a particular topic, like venerable hotels. I have postcards of the Grand Oriental Hotel in its prime, the Galle Face Hotel showing the Colombo Club, now part of the Taj Samudra, Queen's Hotel, Kandy, and a pretty one of the Mount Lavinia Hotel with its original main entrance.
Colonial Ceylon was a popular port of call for steamships plying between Britain and Australia. Passengers staying here for a few days (or even weeks) eagerly sought out postcards to send to friends and family back home.
That resulted in postcards of Ceylon turning up in many countries of Europe, in Australia, and even in the USA, so there are plenty of sources for Ceylon postcards, even today.
Antique shops in Britain and Europe often have a few old postcards tucked away in shoeboxes. There are also some antique shops in Colombo, Bentota and Ambalangoda that have a small, and rather expensive, selection of vintage postcards.
There is even a website dedicated to selling vintage postcards at www.ceylonpostcards.com. Another source is www.ebay.co.uk where about a dozen collectors vie with each other to grab a bargain. One I missed recently was a rare postcard of The Bristol Hotel in Colombo in 1906, with the caption "Best cuisine in the east." It was for sale at GBP5.08 (SLRs889).
The main attraction of collecting old postcards from Ceylon is the amazing number of topics available. Postcards showing tea plantations and tea pluckers are plentiful, as are harbour scenes, but postcards of steam engines are hard to find because of the demand by collectors of worldwide rail history.
Village views are good to collect, especially if they are of villages that have grown into towns today. People doing odd things that we no longer see, like carrying pots on a yoke, or posing as an elephant hunter, are fascinating.
Equally collectible are postcards of religious sites and ancient ruins to see how they have changed. Beach scenes are unspoilt as beaches weren't the desirable holiday spots they are today.
Postcards of the period are usually printed in black and white. If they have been hand coloured they then become unique works of art, different from other postcards showing the same view. Especially attractive are the "Oilette" series of colour postcards published by Raphael Tuck & Sons in England in the 1920s.
How to store your postcards? Putting them in a firm transparent envelope and keeping them in a shoebox is better than sticking them in an album. When they are in a transparent envelope, you can see both sides of the card.
Sometimes the postage stamps or the words on the postcard are as interesting as the photograph. One card in my collection is of the Galle Face Hotel, on which someone has written in classic script: "This is the only thing free in this hotel."
The best way to display your best postcards is to frame them. Because a postcard is fairly small (about 5 ½" by 3 ½"), its impact will be lost if put in a frame about the same size. Better to choose a large frame and have a huge mount with large margins of a dark colour.
That way the viewer's eye is directed to the postcard and all its glory, and it will be the pride of a unique collection reflecting last century's Sri Lanka.