While in-depth investigations are being conducted in to the incident where a six year old girl, believed to have gone missing during the December 2004 tsunami, was located from Wellampitiya two weeks back, the NCPA is trying to locate her biological parents.
Refusing to divulge sensitive details about the incident as it would hamper the ongoing investigations, NCPA Chairperson Anoma Dissanayake requests parents who lost their children of similar age during that time to come forward for a DNA test.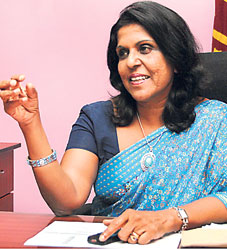 Anoma Dissanayake
Following a tip off received from Galle, the NCPA visited a school in Wellampitiya where the child was studying and took her in to their custody while her caretakers who claim to have adopted the child have also been taken in for questioning.
"Going by the Birth Certificate the couple produced, we believe the girl must have been about one year or less at the time she went missing during the 2004 tsunami. So the parents who lost their children belonging to that age in any part of the country can come forward for the DNA test," she said.
Responding to a question that there would be a large number of parents who have lost their children who would want to come for a DNA test, NCPA Chairperson said they are prepared to tackle that situation as what they want now is to trace the girl's biological mother. "Soon after the news about finding this child was reported, about eight parents came to the NCPA to check if it was their lost child but when interrogated we found out that their children would have been much older than the child concerned," she said.
NCPA says their hotline 1929 is open for any information regarding this. According to NCPA statistics 635 children lost both parents to the tsunami--332 males and 303 females. However, the statistics of the children who went missing during the tsunami are not available at the NCPA. Attempts to obtain statistics from the Police Statistics Branch also failed as the children who went missing during tsunami are not listed separately but included in the category of 'persons missing' which included both adults and children. A total of 2285 Sinhalese, 834 Tamils, 1183 Muslims, 233 foreigners and five others come under this category of missing persons.