"Come sir..!! This Tree is about nine feet tall - look at the perfect conical shape, it is a perfect Christmas tree". Like any other pavement seller, Bandula tried to convince the buyer that the tree he held was worth the money. Realizing it was beyond the buyer's budget, Bandula showed a smaller tree. After a little bargaining, the tree was sold and a happy customer went home with the tree tied to his car hood, bringing the joy of Christmas to his family.
"It is not easy to sell a Christmas tree these days. Buyers want everything for a cheaper price," Bandula said, untying another tree to exhibit to his next customer. Along the pavement lay several Christmas trees securely tied around with ropes without damaging the tender branches. Soon he stepped to the side of the road joining several other hawkers trying to sell their Christmas Trees ignoring the drizzle.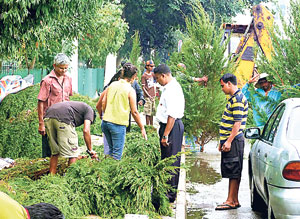 Customers checking out the trees
It is the Cypress tree that is being used as Christmas Trees in Sri Lanka, though Pinus trees are popular in other countries. Cypress grows straight with a perfect conical shape making it perfect as a Christmas tree.
They are also long lasting, where a tree can be kept for almost one month after been cut. Cypress has been frequently planted in hedges in the hill country mostly for its beauty. They are also planted in-between some commercial crops and also at places unsuitable for commercial crops.
"People do not know the effort we have to put in to bring these trees to the city," commented Gunathilake – another tree vendor, who has been bringing Cypress trees to Colombo since the 1970s.
He related an interesting story behind these Christmas trees. All the Christmas trees that are sold near Vihara Maha Devi Park are 'complete trees' (not the branches) brought down from a small village called Heel-oya in Bandarawela. Most of the Cypress trees are cultivated to be cut and sold as Christmas trees and others are picked from private gardens and hedges of the hill country. Gunathilake himself owns about half-an acre of Cypress plantation in Heeloya. The trees have to be fertilized and well looked after for about two years until they reach a good height to cut.
Christmas tree thieves
"We also have to guard these trees from thieves," Gunathilake said. While the vendors are in the city, selling trees cut for this season, the remaining trees are guarded by his family to protect them from Christmas tree thieves. A tree can be kept for about one month without any problem, so they are vulnerable for theft since the first week of December. "We guard our Cypress trees vigilantly since December 1. The remaining one year old trees too are guarded until the 24th," said Gunathilake explaining it is not an easy process.
Guarding the trees doesn't stop at Heel-oya. The pavements of Vihara Maha Devi Park too are not free from opportunistic thieves looking for easy money by stealing a couple of trees. "Earlier we had to sleep on these trees to bodily protect them from thieves who wait until we go to sleep to steal them. But things are now improved," commented Raja – another tree seller who has regularly brought Cypress to town for the past 15 years.
Family business
Most of the sellers near Vihara Maha Devi Park are upcountry farmers who become Christmas tree sellers during the December festive season. Interestingly, all those who sell the trees near Vihara Maha Devi park are from the same Heeloya village in Bandarawela living in the 69B Grama Seva Division under Ella Government Secretariat. More than 50 villagers from the scenic Heeloya village come to Colombo annually, bringing with them Cyprus trees. Some of them are family members too – for example Gunathilake's elder brother and younger brother both come to town with Cypress during the season.
Two or three sellers usually hire a lorry together, sharing the cost, to bring these trees all the way from Bandarawela. Once they get to Colombo, they literally live with the trees – eating and sleeping at the sales site. They putup tents on beside their trees and live at the mercy of the weather gods. Come December it's a different way of life for these vendors.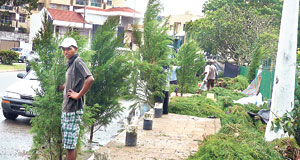 'Come buy our Christmas trees' : Tree sellers opposite Vihara Maha Devi Park
Their trouble doesn't end with getting the plants ready. To transport the trees, they also need to get a permit from the AGA's office and the Forest Department. This sometimes takes time and some vendors complain that they need to give tips or 'santhosam' on the way at some checkpoints to get the trees released quickly. Permission for the Heel-oya clan to sell their Cypress trees at the Vihara Maha Devi Park was also not initially granted, but authorities later allowed them to stay there under the condition that they looked after the vicinity.
The pricing is usually done according to the height of the tree which can range from four feet to 12 feet. On average a plant exceeds about Rs.1000 totalling all the expenses, according to the vendors. But they complain their market is also diminished by the flooding of artificial Christmas Trees.
Environmental friendly
"Using Cypress trees as Christmas trees are environment friendly as they are biodegradable. That is why I always use a natural tree as a Christmas tree," – said Chrystopher Fernando – a buyer we met at Vihara Maha Devi park pavement, explaining his preference for the natural Cypress. "It brings a natural feeling to the Christmas - Christmas wouldn't be Christmas without a real Christmas tree," said another buyer.
Some people buy artificial trees for the convenience, but most of the artificial Christmas trees are imported from other countries. "The money spent on these natural Cypress trees from Heeloya will remain in Sri Lanka and will help some Sri Lankan in the process to survive," said Gunathilaka the 53 year old farmer.
This year they came to Colombo on December 17 and will remain until Christmas Eve. The trees that could not be sold will be left behind while they get back to the village. These vendors are not deterred by the hardships they face. "It is not an easy job – but we will come next season too bringing Christmas to town," said the Heeloya Christmas tree vendors wishing every one a 'Merry Christmas'.
Christmas Trees
The Cypress tree that is being used as a Christmas tree in Sri Lanka is known as Califonian Monterey cypress scientifically classified as Cupressus macrocarpa. It is a medium-sized conifer tree that was introduced by the British to Sri Lanka's hill country. Dr.Siril Wijesundara – the Director General of the Botanical Gardens Department said Cypress was introduced to Sri Lanka as far back as 1880. The Hakgala Botanical Gardens in Nuwara Eliya has very old Cypress trees. The Cypress tree can grow to upto 40m and the trunk can grow to 2.5m diameter.
In other countries many varieties of Pinus or fir trees are used as Christmas trees. In the past, Christmas trees were often harvested from wild forests, but now almost all are commercially grown on tree farms in many other countries. Internet sources disclose that almost all Christmas trees in the US are grown on Christmas tree farms where they are cut after about ten years of growth and new trees planted.