An ambiance of warmth and joy greeted those who braved the inclement weather and flocked to the BMICH on December 22, to attend the concert titled 'Joy to the world'.
The concert was jointly organized by the Archdiocese of Colombo and the Blessed Joseph Vaz Trust.
One sensed the spirit of Christmas, enhanced by the exquisite and beautifully arranged decorations. The portraits of angels, the red poinsettia flowers and the silver stars all added to create an aura of beauty and serenity synonymous with the festive season.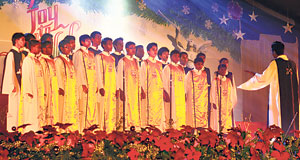 Choirs of St. Peter's College. Pix by M.A. Pushpa Kumara
People from all ages and different walks of life gathered to celebrate the birth of the Messiah.
The hall filled up and the evening began with prayers and blessings by His Eminence Malcolm Cardinal Ranjith.
Then it was the turn of various choirs. Among the choirs that performed were Soul Sounds, Revelations, and the Peradeniya Singers.
Various school choirs such as the choirs of Good Shepherd Convent Kotahena, St. Peter's College Colombo, St. Joseph's College Colombo, St. Benedict's College Kotahena and St. Bridget's Convent Colombo also entertained the audience as well as the Soul Sounds Juniors.
There was a special guest appearance by the Alpine Harmony Austria, which included a harp player. Nicole Mueller sang some carols along with the Alpine Harmony.
The evening was one of entertainment and enjoyment as the choirs took the audience through the numerous carols both traditional and modern. A Sri Lankan flavour was added as Sinhala and Tamil carols too were sung.
The last carol sung was 'Joy to the world' and the audience was invited to join in the singing. The National Anthem brought the pleasant evening to a finish.
Christmas is a season of sharing and caring. In keeping with the spirit of Christmas, the proceeds of the concert will be solely used for the various projects of the Blessed Joseph Vaz Trust. Rehabilitating street children, providing scholarships for the needy, poverty alleviation, vocational training and assisting in self employment, and extending financial assistance for the renovation of Churches are some of the major areas of projects supported by the Trust.