SINGAPORE -- Software giant Microsoft Corporation is looking forward to assisting Sri Lanka to adopt cloud computing – or the ability to access software, data and computer applications anytime and everywhere - as a way to lower the cost of government operations and use technology to help change the way Colombo administration works.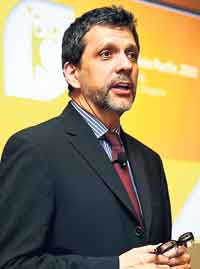 Orlando Ayala
It will cut costs and improve the delivery of services. Speaking to Business Times exclusively on the sidelines of the company's two-day "Accelerating Asia Pacific 2010" forum which opened at the Microsoft auditorium in Singapore on Tuesday, December 14th, Orlando Ayala, Microsoft Corporate Vice President and Chairman of the Emerging Markets said that his company will hold talks with the newly appointed Minister of Telecommunication and Information Technology, and relevant government officials in a push towards a public-private sector partnership to make cloud computing a reality in Sri Lanka, with the dawn of peace.
Investments in infrastructure are necessary for national competitiveness amid changes in the way information technology (IT) is consumed, he said. A high powered Microsoft team will be visiting Sri Lanka to prepare the groundwork for this initiative, he revealed. According to a survey released earlier this week by Global Industry Analysts, a market research group, the worldwide cloud computing economy is set to grow by $200 billion over the next five years. He added that this new generation technology or the" model of a modern nation," is very suitable for the country as it can help cut costs, improve efficiency, promote innovation and shed a light into the performance of the government.
Mr Ayala noted that Microsoft wants to focus on four areas: health, government transparency, education, and public safety. This will benefit the government as it will lower IT costs with a "pay-as-you-go" model, and make budgeting easier as cloud services can be treated as operating rather than capital expenditures, he added.
Unveiling Microsoft plans for Asia Pacific region at the Accelerating Asia Pacific 2010 forum before an audience of over 100 journalists from around the world, Mr. Ayala said that the company focuses attention on countries like Vietnam with its 86 million young and hard working population, 90 % of which are below or within working age, and 65 % are under the age of 35 years. With this demographic profile, the Vietnamese government in its ICT 2020 vision recognises the potential to develop a technology-savvy workforce for both domestic and global markets, he said.
Microsoft is also open to expanding partnerships with non government organizations, recently granting $800,000 to anti-human trafficking group the Visayan Forum Foundation for the training of victims and potential victims. Microsoft is already competing with Internet search firm Google in securing US government contracts to switch to cloud computing, recently winning a deal with the US Department of Agriculture, which is migrating 12,000 workers to e-mail, web conferencing, document collaboration, and instant messaging in the 'cloud', he added.
Delivering the welcome address, Tracey Fellows, Area Vice President of Microsoft Asia-Pacific, noted that the Asia-Pacific region has the fastest number of adopted technology, and that right now one of the challenges that the world has to overcome while concentrating on advancing is to take note of the 'digital divide'.
The evolution of technology and how 'cloud technology' will advance in the coming years was the main topic during panel discussions. Panelists also highlighted the 'transformative power of technology' to drive major scientific breakthroughs and help solve some of the world's most pressing societal issues such as child online safety. Discussions were also centered on the use of IT to tackle education issues and also how technology can help improve the healthcare system.