PC House PLC (PCH) will soon be partnering one of India's fastest growing mobile phone brands, Karbonn to market mobile phones.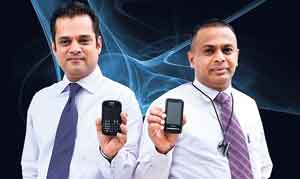 From left: Failan Saleem, COO - PCH Mobile and S. H. M. Rishan, Chairman - PC House PLC displaying the new Karbonn mobile phones
The company said Sri Lanka's mobile subscribers grew to 15.86 million in the second quarter of 2010 up from 11.49 million a year earlier.
The market is growing at around 20% to 25%, and there is room for Indian brands who offer the design and feel of the big brands within a price range of Rs. 3,500 to Rs. 14,000. "Whilst inferior phone models with dual SIM options have been popularized in Sri Lanka lately, PCH is responding to huge customer demand for dual SIM phones backed by a proper warranty," the company added.
Karbonn Mobiles is a joint venture between Delhi-based Jaina Group and Bangalore-based UTL Group, and sells between 500,000 and 600,000 handsets per month.