World Bank Managing Director Dr. Ngozi Okonjo-Iweala was in Sri Lanka this week on an official two day visit to Sri Lanka. During her stay, she was due to meet with senior government officials and visit the World Bank Group's supported projects. Her trip coincides with a new era of development in Sri Lanka as it embarks on an ambitious new course towards a middle income country in lasting peace.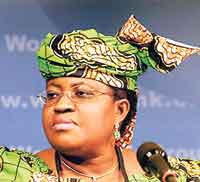 World Bank Managing Director Dr. Ngozi Okonjo-Iweala
"The World Bank has been an active partner in supporting Sri Lanka in its transition from a low income country in conflict to a middle income country in peace," said Dr. Okonjo-Iweala in a statement issued by the bank. "The post-war environment provides an opportunity to build on our relationship to support the government's vision to firmly establish the country's place in the ranks of fast growing middle income countries."
She was due to visit World Bank Group supported projects in Eastern Sri Lanka aimed at increasing opportunities and enhancing economic growth and development. Her visits included projects assisting with higher education, employment generation for vulnerable groups, small and micro enterprise development and increasing computer use and literacy.
She was also due to meet President Mahinda Rajapaksa, policy makers and senior officials including Central Bank Governor Ajith Nivard Cabraal along with members of the media (at a news conference yesterday). She was assisted at the briefing by Ms. Diarietou Gaye, Sri Lanka Country Director Designate and Dr. Amit Dar, Acting Country Director, World Bank Sri Lanka/Sector Manager, Education, Human Development Network, among other officials.
Dr. Okonjo-Iweala, a national of Nigeria, was formerly the Minister of Foreign Affairs as well as the first female Minister of Finance and Economy for Nigeria. Economic growth rates tripled during her time as Finance Minister and she has garnered international recognition for improving Nigeria's financial stability and fostering greater fiscal transparency to combat corruption.