Exports, one of Sri Lanka's leading tea exporters, said this week that it had become the first global tea firm to receive CarbonNeutral® company certification, a major milestone in the 67 year-old history of the family-owned organisation.
"Not only is Eswaran Brothers Exports the first company in Sri Lanka to achieve this prestigious and much sought after certification, but we are the first in the world to do so, proving that Sri Lanka is out there, making its mark and doing its bit for the environment," said Vice Chairman of Eswaran Brothers and a third generation tea taster, Subramaniam Eassuwaren, in a statement.
"As part of a family that has been devoted to tea, this is an important landmark for us. It's among the initial steps we have taken in our drive to become a truly ethical and sustainable business while still maintaining profitability. It is also an extension of our heritage and values that have guided all our activities at Eswaran Brothers since my grandfather first started his own business in 1943," he said.
The company is also ISO 14001 certified for its environmental management.
According to Mr. Chalaka Fernando, Head of Consulting at the Carbon Consulting Company, "Carbon Neutrality is a significant achievement for Eswaran Brothers who are the first Sri Lankan tea exporters and the first tea company globally to achieve CarbonNeutral® certification. We are confident that it will see the Triple-Bottom Line benefit of people, planet and profit from this".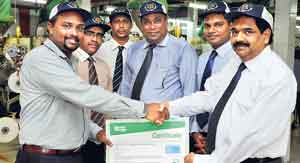 Picture shows Chalaka Fernando - Manager Carbon Consulting Company presenting the Certificate to S. Deivoo, Managing Director of Eswaran Brothers Exports (right). Also seen are N Ravi -Director, N. Wijesinghe – Plant Manager, K. Fernando Deputy Managing Director and Subramaniam Eassuwaren – Vice Chairman of Eswaran Brothers.