Published as part of the CBSL Diamond Jubilee Celebrations, The Central Bank of Sri Lanka Retrospect 1950 - 2010 is a source for very interesting tidbits of news which have been long forgotten. For each of the 60 years, researchers had looked through the local newspapers and selected many news clipping, primarily on the Central Bank, but also including local and world news which was most important for that year.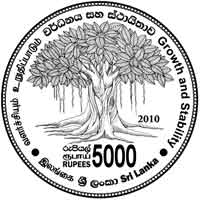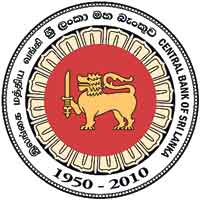 New Rs 5000 coin
The choice of stories seems reasonable with no significant political bias. These stories have been laid out like in a 2-page newspaper for each year called Retrospect. A sprinkling of advertisements and cartoons gives it the look and feel of an old newspaper. In the book I found a lot of interesting facts that I did not know and has made me realize how much forgotten details must be hidden in printed news papers. Unfortunately this CBSL publication has stripped the date and source of the news item from the news-clips making it difficult to follow up, or refer to the story.
W. A. Wijewardena, former deputy Governor of CBSL in his review of this book posted at the CBSL website has suggested that "Retrospect should be converted to digital form with facilities for readers to download relevant sections and posted to the Bank website". I hope CBSL will implement his suggestion and also make available on those web pages a proper reference to each news item, giving date and name of newspaper so that a researcher can look it up in a library.
The choice of advertisements and prices was very enlightening and reflect the change in value of money. Based on the current price of Silver and Gold in comparison to prices in 1950, one can infer that a rupee in 1950 is equivalent to about Rs 1000 in 2010. An interesting news item in the 1953 page reports that a brass two cent coin cost 3.5 cents to mint. That report shows the transparency of the CBSL in that era. The cost of minting coins and currency is no longer published by CBSL. It is also ironic that the smallest coin in circulation in 1950, the 1-cent is equivalent to Rs 10 which is the largest coin denomination in circulation in 2010. It is not surprising that all of the coins currently in circulation, cost more than face value to mint.
I hope the source material gathered for this book will be made available in the CBSL library as a more complete set of Newspaper clipping with references. For example news clips of only about a third of the commemorative coin issues are included, which is a pity, since there was at most one or two events for which coins are issued by CBSL each year.
A Silver Commemorative Coin with a face value of Rs. 5,000 will be issued in January 2011 for the CBSL Diamond Jubilee. The first coin was presented to President Mahinda Rajapaksa on Wednesday. It will be the first Multi colour coin issued by CBSL. The reverse of coin shows an artistic Banyan tree with overblown leaves, to symbolizes the economy of Sri Lanka with the words Growth and Stability above and Sri Lanka below in Tamil, Sinhala and English along the periphery of the coin.
The logo on either side on top of each years Central Bank Retrospect was changed in 2008 to reflect the adoption of this new logo that year. However the publishers have forgotten to do a similar change in logo for years 1985 and older when the name was Central Bank of Ceylon. The change in name is highlighted in the 1986 Retrospect.
The hard bound book is heavy (3.5kg) since the large 12x18 inch pages are printed on 140gsm board. It may be a bit too large to be on a coffee table, but clearly a very impressive addition to any library that can afford the Rs10,000 price tag.
(The writer maintains an educational website on Lankan coins at http://coins.lakdiva.org and is the President of the Sri Lanka Numismatic Society).