The University of Greenwich is located in some of the most stunning buildings in England. Situated on three campuses in London and Kent, it effortlessly blends architectural heritage with 21st Century teaching.
The University of Greenwich is home to a student community of around 23,000 students including over 5500 International students from over 140 countries. UOG is pleased to be home to a thriving community of Sri Lankan students, numbering over 200. The University holds the highest student satisfaction in London and is in the top 20 UK universities for graduate starting salaries (the Sunday Times League 2010).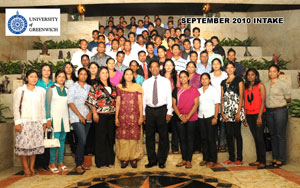 It is also among the top ten consultancy universities for Business and Industry. The University is pleased to offer students high quality teaching with extensive resources including well equipped Computer and Science Laboratories, Library Services, and a wide range of accommodation facilities along with a myriad of social, cultural and sporting activities for students to enjoy.
WHY CHOOSE UNIVERSITY OF GREENWICH
The University of Greenwich offers the best of both worlds, "City and Country". You are at the doorstep of London but with the cream of Kent's Rolling Hills, Seaside Resorts, and Historic sites not far away;
Some of the features which have contributed towards the popularity of the University among Sri Lankans in the past are as follows;
4The quality of Teaching and facilities offered to International Students
4Location and the truly International learning environment offered by the University
4The Global reputation and the Recognition of the University for the Excellence achieved in the field of education
4The wide range of programmes offered in various disciplines
4Competitive fees structure and easy payment terms offered by the University
Exemptions granted to pre-qualified students to follow various undergraduate programmes
*The pathway through the International Foundation Programme and extended Engineering and Science programmes to follow the undergraduate degree
CHOOSING YOUR PROGRAMME
The university offers a wide range of over 300 Undergraduate and Postgraduate programmes in the following fields of study:
Architecture&Construction/ Accounting Finance/Agriculture/Art&Design/ Business/Banking/Computing/Criminology/Economics/Education/Information Systems/ Engineering/Health/Law/ Marketing/ Events Management/Mathematics & Statistics/Multimedia /Science/Quantity Surveying
Ms Joanne Wall, the International Recruitment Manager from the University visits Sri Lanka at least 4 times during the year in the months of February/ May/July and October and takes pride in guiding and counseling students to choose the right programme to achieve their career goals.
NATIONALITY SCHOLARSHIP
UOG also offers to all Sri Lankan students a nationality scholarship of GBP1000 pounds, as well as easy payment terms to pay for their tuition fees.
ADVANCED ENTRY TO PROGRAMMES
The University also offers partly qualified professionals such as those with CIM/CIMA/ACCA/ABE/NCC/BCS/IMIS/AAT/ International Foundation Programmes/H.N.D Edexcel qualifications etc, an advanced entry to both the Undergraduate as well as the postgraduate programmes depending on the qualification they hold.
PATHWAYS TO AN ACCELARATED DEGREE
The University of Greenwich also offers an academic bridge to those students who do not possess the required Advanced Level results by creating a pathway through the International Foundation programme which is primarily designed for students with excellent Ordinary Level results and GCE A'S level or Sri Lankan GCE Advanced level results to achieve their preferred degree. They also have an extended Science and an extended Engineering programme which is designed to assist students who don't have sufficient grades to join the university and accomplish their academic endeavours.
PRE-SESSIONAL ENGLISH PROGRAMMES
The University offers pre-sessional English courses for students who have yet to achieve the required IELTS scores to join the degree programmes.
The pre-sessional English programmes are offered either for a 5 week or 9 week period and are designed for students who have achieved a minimum of 5 and 5.5 bands respectively at the IELTS EXAMINATION.
In addition the university also runs a free English language Programme for all interested students within the university premises to enable students to update their linguistic skills.
OFFICIAL REPRESENTATION
International Placewell Consultants Sri Lanka, is the only authorized official representative for the University of Greenwich. International Placewell Consultants Sri Lanka which is popularly known as "IPC" have been working in partnership with the university for the past 7 years and is ideally placed to provide experienced and professional guidance to applicants wishing to study in the UK.
You can be assured of an excellent service which is offered complimentary to all students enrolling with the University of Greenwich as well as their dependents who would be accompanying them to the UK.
Our Representatives office headed by Mr Rohan Wijesooriya Managing Director of IPC Sri Lanka is located at 93, Thimbirigasyaya Road Colombo 05 and could be contacted on telephone numbers 2593266/0773-060841/0713-266202