The Academy of Design, South Asia's celebrated Design Campus, has been in the forefront of Sri Lankan creativity since its initiation almost a decade ago. AOD specializes in Professional Creative education in the major areas of Design including Fashion, Interiors, Graphics and Jewellery. AOD gives their students a training compatible with international standards and in par with the globally recognized Northumbria University-School of Design Degree that they offer.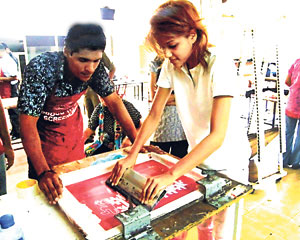 SLDF 2010 features over 50 hands-on workshops conducted by design professionals, design enthusiasts with first-hand experience on design processes in a myriad of areas like Batik, Photography, T-shirt printing, Book Design much more.
Among AOD's many contributions to the local design industry, is Sri Lanka Design Festival, which was initiated in 2009, and will take place for the second time this year. AOD conceptualized SLDF with a multitude of objectives among which a main objective is the development of the design education in Sri Lanka and the South Asian region. SLDF spreads across the six main creative disciplines; Fashion Design, Graphics & Advertising, Product Design, Jewellery Design, Interior Design & Architecture and Traditional Crafts.
Through the Sri Lanka Design Festival 2010, AOD has brought in over 100 international creative professionals including global design leaders like the legendary fashion writer and critique Colin McDowell who is also the brand ambassador of SLDF, Elizabeth Laskar-Founder and Director of Ethical Fashion forum, Orsola De Castro - one of the most influential women in UK eco fashion as the co-founder and curator of Estethica, Topshop, M & S, Tesco, Asos and many more.
SLDF will be an interactive educational experience for design enthusiasts in the region, with over 50 hands-on workshops by international designers and retailers, seminars by global opinion leaders, graduate fashion shows and exhibitions and much more. AOD was supported by the EDB and the principal sponsor of the event - MAS in organizing this national celebration of the creative arts.
Through SLDF, AOD hopes to create an international platform for local design graduates and drive Sri Lankan creative education to reach highest global standards. For more information on Sri Lanka Design Festival 2010 and to purchase online tickets for Workshops, Fashion Shows, Exhibitions and other events, Log on to - www.srilankadesignfestival.com