ESOFT Computer Studies, which is a well known name in the Sri Lankan Training and Education field, now offers Edexcel International's Higher National Diploma (HND) programmes at a reduced fee of only Rs. 125,000. The study options that are available include:
HND in Computing
HND in Business (General)
HND in Business (Management)
HND in Business (HR)
HND in Business (IT)
The HND is an 18 to 24 month academic programme that can be completed either on a full time or part time basis, thereby giving the student a valuable qualification that is equivalent to the first two years of a three year British B.Sc (Hons) Degree. Students can then do one more year of studies to top-up their qualification with a B.Sc (Hons) Degree from a UK University, thereby earning their Degree in record time, with a minimal investment.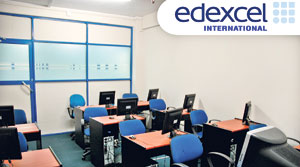 Interactive Training Labs used for conducting practical modules of Edexcel HND.Students also receive unlimited practical hours in our main computing lab.
ESOFT has been involved in the education sector since the year 2000 and has 26 branches island wide. Amongst these, the branches that conduct the Edexcel HND are Colombo, Kandy, Kurunegala, Kiribathgoda, Negombo, Galle, Matara, Jaffna, Batticaloa, Kalmunai and many more. We are well known in the training and education sector for leading several products. For the benefit of those that do not recollect, a few highlights are:
nOur academic panel is one of the best due to the qualifications they hold and the many years of teaching experience in some of the most demanding programmes. Our lecturers are employed by us full time, and are therefore fully prepared for any lectures they conduct, and are easily accessible to the students for solving their queries.
We lead the market for the British Computer Society (BCS) Professional Examinations in IT (now know as the Higher Education Qualification), and have produced some of the best results in the entire world, where our students have won many World Prizes for their accomplishments. At the last graduation ceremony, students of ESOFT walked away with ALL of the Prizes that were on offer. This shows the commitment and expertise of our academic panel. ESOFT is the only "Accredited Course Provider" in Sri Lanka for all three levels of the exams.
We lead the market for the Bachelor of Information Technology (BIT) Degree of the University of Colombo School of Computing, having the largest student numbers island wide through our branch network. We have also produced the largest number of graduates, and three consecutive Batch-tops.
We also conduct classes for the Bachelor of Information Technology (BIT) External Degree of the University of Moratuwa. Being selected as a collaborative partner of the University exemplifies the level of our academic and physical resources available for learners at ESOFT.
Students that complete their HND can then go on to complete their final year of the Degree at ESOFT itself thereby graduating from one of the finest Universities in UK. These top-up programmes are being offered in collaboration with our strategic partner, Auston Institute of Management. Students that wish to study for the final year in UK can also be facilitated via ESOFT.
Think wisely before investing your time and money with a course provider, as this is an investment in your future. ESOFT offers comprehensive textbooks for each module and the batches are kept small so as to provide better attention.
For further information, please call us on 077 309 9 301 or 011 7 555 545. You can also get more information by visiting our website at www. esoft.lk