The ever-increasing interest amongst Sri Lankan youth to pursue their higher education abroad has brought about the now fairly common trend of professors from foreign universities coming down to Sri Lanka to educate the students on studying overseas.
It is however highly unusual to have a Sri Lankan professor coming back to the country to do the same; a Sri Lankan teaching at an American university at that. This is precisely the role that Professor Ana Gowribalan, visiting Mathematician from University of Cincinnati hopes to undertake by coming down to Sri Lanka for an extended period of time.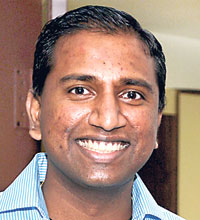 Professor Ana Gowribalan
"About two and a half years ago, I saw an article in the University of Cincinnati press about the International Students Director making a trip to India to recruit students. When I read this I immediately got in touch with him and asked him to make a trip to Sri Lanka, as I believe that we have the same or even better students here in Sri Lanka", Ana said.
To his surprise, Ana was informed that the University had in fact already started operations in Sri Lanka and was put in touch with a couple in Sri Lanka, Priyanthi and Padmasena Dissanayake who specialize in sending Sri Lankan students to the United States for higher studies.
The professor then approached his university administration and asked them to send him to Sri Lanka instead of an American to promote the university amongst Sri Lankan students as he felt that he would be able to understand the students' needs better and they in turn would be able to relate to him.
"My purpose on this trip is to help the students here as a lot of them are more than qualified to go to a university outside this country and Sri Lanka does not have enough facilities to accommodate all who want to pursue higher studies", explained Ana.
He however has met a roadblock in his efforts - the fact that Sri Lankans still have the mentality that a British or Australian education is better or more obtainable than an American education.
Ana looks to change this opinion and direct students to the States particularly to his own university which has the great combination of being a prestigious university, as well as being located in a city location with a cheaper cost of living.
Born in Colombo, Ana grew up in Bambalapitiya for most of his childhood, attending D.S. Senanayake College for the first couple of years but switched to S. Thomas' Prep and to S. Thomas' Mount Lavinia following the 1983 riots. His parents were very keen on him pursuing a higher education just like his older brothers and therefore made it a priority to send him to the best tuition classes available at the time. Ana also had a brother studying in the States at the time and yet another working there and were therefore able to lend him much support both in terms of finance and choosing and settling into a university - in this case the University of Arkansas in Jonesboro.
"The admission tuition at the time was $1300 per semester with an exchange rate of Rs.40 a dollar", he said laughing, comparing those rates to the comparatively astronomical figures these days.
"Keep in mind that American universities do not require A/L for admission, just O/L, TOEFL and ACT/SATs". A/L results provide students with credits which reduces the overall responsibilities of obtaining a four year degree.
Ana commenced his studies in 1991 after being admitted into the engineering faculty as he had an idea of majoring in civil engineering at the time. The early '90s were the time when the computer science field was booming with many students switching to the field and Ana influenced by this jumped ship but was not able to last long doing that and finally decided to follow math.
He graduated in 1995 with an overall 3.3 GPA. Although he was keen to come back to Sri Lanka with its improving situation, Ana decided instead to pursue his graduate degree, after the University of Arkansas offered him a very generous scholarship.
The same university offered him a full-time teaching opportunity which he accepted but moved to New Jersey in two years in search of a more permanent position and snagged a tenure track position at a community college there.
Five years were spent in New Jersey where he met and married his wife Neeta but in early 2005, looking for more of a challenge he applied to the University of Cincinnati and was accepted in the same year. He is currently in his sixth year at the university and plans on applying for tenure this year.
He described the University of Cincinnati as being one of the top 25 public research institutions in the country with an endowment of close to a billion dollars by alumni. It also boasts a 200 year history and has produced immense amounts of scholars including presidents, senators and chief justices. The undergraduate degree in College Design, Architecture, Art and Planning is also regarded as one of the best design schools in the world and the business and engineering schools are in the top 100.
His objective and that of the Dissanayakes has been to increase the number of Sri Lankan youth getting into universities. The first hurdle of course is the cost involved which even for a middle class American family is quite heavy but many universities provide excellent financial aid packages and the Dissanayakes at the moment work with 30 institutions which have pledged to provide students from Sri Lanka with maximum financial aid. In fact the University of Cincinnati joined forces with the Sri Lanka Institute of Information Technology (SLIIT) two years back allowing students to do two years of the course here and complete their degree at the University of Cincinnati in the United States. Padmasena Dissanayake explained that the ultimate objective was to encourage the university to set up an offshore campus in Sri Lanka but this of course is a long term goal.
"Ana is here to promote the university - we have decided to make maximum use of this trip and plan on taking him to the University of Sri Jayawardenapura to meet students who are interested in doing postgraduate degrees in the US. People here are not aware of the opportunities available to them", Padmasena said. He stressed on the importance of losing the 'island mentality' and instead look to build a more progressive, liberal society in which the youths' higher education plays an important role, America being a good country to look to as an example. He also blamed individuals for seeing the opportunities to study abroad as 'brain drain' which kept them from encouraging students to pursue their education overseas.
Amongst the many students already sent to America with the Dissanayakes' help is a girl from Jaffna and another boy from Hatton, an engineering graduate from the University of Peradeniya who has now got offers to do his doctorate at MIT and Stanford. Another initiative they hope to start in Sri Lanka is to encourage foreign universities to send their students to the country through study abroad programmes which in turn would improve foreign exchange reserves and improve diplomatic relations between the two countries while providing great learning experiences for all students concerned, both local and international. - Cassandra Mascarenhas