The annual convocation of the Institute of Chartered Accountants was held on September 24 at Water's Edge, Battaramulla, graced by the Minister of Cooperatives and Internal Trade, Mr. Johnston Fernando, as Chief Guest at the ceremony. The Guest of Honour was the Managing Director / Chief Executive Officer of Hatton National Bank PLC, Mr. Rajendra Theagarajah.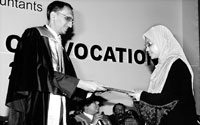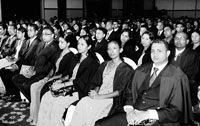 Ms. M. A. H. R. Hassan receiving her award from Mr. Sujeewa Mudalige, President, ICASL
The convocation ceremony is the most looked forward to event in the academic calendar of the Institute and is also an unforgettable event for those who graduate as they celebrate the achievement of a well earned qualification.
This year, 247 graduates who had completed the Chartered Accountancy qualification were awarded Associate certificates joining a fraternity of over 4000 Chartered Accountants in the country. Further, 20 senior members of the institute advanced to fellowship status. Ms. M. A. H. R. Hassan who won the First in Order of Merit at Final Part 1 (Dec. 2009) and the subject prize for Management Accounting at the 2009 Dec examination, was recognized at the ceremony.
Ms. H.M.T.I. Herath, Ms. J.R.A.Y.S. Jayaweera; Ms. S. Padukka; Ms. D.M.C.I. Dasanayaka, Mr. K.W.Y.S. Abaayadarma, Ms. U.G.Y. Methmalee, Ms. D.U. Ravihari and Ms. E.A.T. Edirisinghe were the other prize-winners who were recognized at the ceremony for their outstanding results at the March and September 2009 examinations.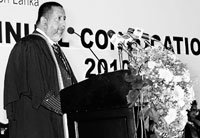 Guest of Honour, Mr. Rajendra Theagarajah addressing the gathering.
Mr. Sujeewa Mudalige, President, ICASL in his address said "Today we celebrate what you have achieved in completing an extremely demanding, rigorous and a tough professional programme.
Our qualification attracts the best and the brightest. This year alone we will be registering a large number of new students.…… The Institute has many strengths built up over time - its heritage; its contribution to the development of the modern profession; the intellectual rigour it brings to the table and, perhaps most importantly, its members.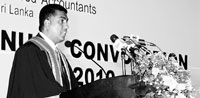 Chief Guest of the ceremony Minister Johnston Fernando.
Over 50 years down the line since its establishment, our Institute today has grown to become an influential body of accountants that stretches far beyond our members in accountancy practice. Nearly eighty per cent of our members now work outside traditional accountancy practices in every conceivable type of business and industry.
No other profession has the insight that we have into factors which affect the business organizations and the performance of the economy. Minister Johnston Fernando, while congratulating the graduates and new Fellows urged that they should take a lead in rebuilding Sri Lanka.
Mr. Rajendra Theagarajah, Managing Director/Chief Executive Officer of Hatton National Bank PLC, Fellow Member of the Institute making an inspiring address, shared his personal experience on what it means to him of being a Chartered Accountant.
Emphasizing the role of Chartered Accountants at national level, he stated, "Today this country has a national plan. We have seen the opening of new markets for business after three decades, investments in infrastructure on a scale never seen before, a thriving domestic stock market and most recently external recognition in the form of a sovereign rating upgrade. Sri Lanka today is on the threshold of an exciting journey ahead.
As Chartered Accountants, there is much that you can do in bringing a fresh lease of life to business in both the private and public sectors - the economic and development potential of our country is only limited by your visions and dreams for the future."