Promoting the art of wildlife photography and awareness of cohabitation, Yala Village, a member of the John Keells Hotels Group together with Etisalat Lanka presents –"Yala Village - Etisalat Nature Photographer 2010".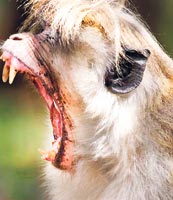 Animal behaviour by Gehan de
Silva Wijeyeratne
Nature photography enthusiasts now have the opportunity to submit entries in the following categories; animal behaviour, birds in action, wild and scenic places and best camera phone wildlife image. The junior competition will be open to children under the age of 16, while the adult competition will be open to those who are above the age of 16 as at August 31, 2010. Entries close by October 30, 2010.
The Mobile Camera Photography competition is a new category added into this competition due to Etisalat's sponsorship, enabling participants to capture a photo on their mobile phone and MMS it to a short-code which will be uploaded onto the competition website. Category winners will be selected in addition to an online voting competition facilitating viewers to vote for their favourite camera phone photo.
The John Keells Hotels Group together with Etisalat will award winners of each category and the overall winners, will receive prizes in cash to the value of Rs.160,000 as well as complimentary vouchers to visit John Keells Hotels. Entry forms with the rules and regulations for the competition can be downloaded from www.johnkeellshotels.com and www.etisalat.lk . Printed forms can also be collected from Yala Village, John Keells Hotels Reservations and any Etisalat authorized dealers located island wide.