The operation on Monday, September 13, at the Nephrology Unit of the Kandy Teaching Hospital was nothing unusual in Sri Lanka. In a country where many are suffering from Chronic Kidney Disease, kidney transplantation operations have become more or less routine.
But for the hundreds who insert fervent appeals in the newspapers or contact numerous people in a desperate search for a kidney to save their lives, it was a red letter day.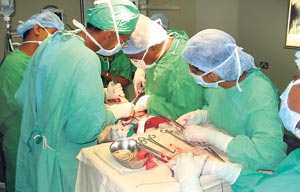 The transplantation in progress. Pic by Shane Seneviratne
The transplantation carried out by Transplant Surgeon Dr. P.K. Harischandra and his team was a first under the National Organ Donor Programme launched to meet a dire need in this country, as patients with kidney disease had no one to turn to.
With the first transplantation under the programme taking place, there is hope and succour for hundreds of thousands of men, women and children who have been nobody's responsibility, left to their own devices to find a kidney or else face death.
The first "recipient" under the programme last Monday was 40-year-old H.M. Mahinda Wijebandara of Hataraliyedda off Kandy, a soldier who had served the country in battle-areas such as Jaffna, Trincomalee, Vavuniya and Maduru Oya for over 21 years. He was also the sole breadwinner for his family of three, wife and two young daughters.
Their world shattered when he was diagnosed with "waku gadu rogayak" which necessitated dialysis three times a week and an O+ kidney urgently for transplantation. Otherwise, his fate was sealed.
Mahinda's life-saving answer came when Chammika Prasad Rajapakshe, also a father of two from Peradeniya who "always wanted to donate a kidney" did so under the National Organ Donor Programme.

Ajit F. Perera
Under this programme initiated amidst many challenges by Ajit F. Perera, people who wish to donate an organ may register by filling a form including vital information such as blood type. Once they register, the data is computerized and matched by computer with the patient pool provided by the renal units of Kandy, Anuradhapura, Colombo and Jayewardenepura Hospitals.
Several people who wish to donate their kidneys while alive are already registered with the programme launched on March 31, 2009, while 1,000 have pledged their kidneys after death.
"The two families of Mahinda and Chammika have bonded and consider themselves as one family these days," says Mr. Perera who was anxiously pacing the area close to the operating theatre like a mother whose baby was under the scalpel during the whole procedure.
For Chammika who was discharged from hospital on Friday, just five days after the operation, the donation is a meritorious gesture and the fulfilment of a long-held wish. He is a daily paid worker and has not had wages since September 1 due to the donation. But that didn't deter him, says Mr. Perera, adding that it's a "match made in heaven!"
The donor programme
The vital National Organ Donor Programme is a collaboration between the Kidney Transplant Support Foundation (KTSF) founded by Ajit F. Perera and the National Kidney Foundation of Sri Lanka headed by Dr. A.M.L. Beligaswatte, a former Director-General of Health Services.
Launched on his own, with no funding from the government, Mr. Perera says it is becoming difficult to sustain the programme which is of immense service to the public. He appeals not only to individuals but also to corporates to give "something" to keep the programme going.
Those who wish to help save a life by donating an organ or by contributing their mite to keep the programme alive may contact Mr. Perera on Phone: 00-94-112-824373 or 00+94-115-553890; Mobile: 00-94-722-247236 or Fax: 00-94-112-824373.
His e-mail is: 247236@celltelnet.lk and postal address: 465/24, Ranasinghe Mawatha, Pepiliyana.