A hole in the heart can be surprisingly difficult to spot. The young woman on the table is much older than the patients the doctors from Evelina's Children's Hospital (a part of Guy's Hospital, London) normally examine, but they're reluctant to turn anyone away, even though their time in Sri Lanka is limited. Dr. John Simpson and Dr. Alexandra Savis scan the beating heart, looking for anything that's out of place. On the portable, battery driven echocardiogram beside them little flashes of red and blue pulse - each colour indicating the direction the blood is flowing in.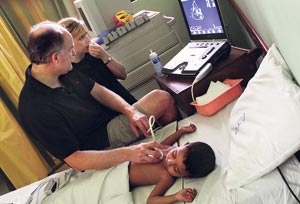 Care from across the seas: Dr. John Simpson checks a young patient.
There are more patients awaiting their turn outside, many of them appearing far too young to bear the burden of such a serious disease. Born with malformed hearts, some of these children have holes in the organ, others have obstructed valves or heart murmurs. The seriousness of their conditions makes both the foreign team's equipment and their skill very welcome at the Karapitiya Hospital in Galle.
"These are problems that appeared as the heart was forming," says Dr. Simpson, explaining that congenital heart disease presents far more complications when compared to heart disease in adults. Assisting him is Dr. Savis, who specialises in cardiac ultrasound for children. "For us to get to our age, you can assume you have a heart that's been put together the right way...with children there can be any combination of things," she says. Many of her cases so far have been really challenging – "all the children we've seen today have quite complex heart lesions," she reveals.
The little black box that is so essential to the diagnostic process is a part of the medical gear the team brought all the way from the U.K for their week long stint in Sri Lanka. The group of 10 includes not only surgeons and diagnosticians, but anaesthetists, profusionists, I.C.U doctors and nurses. By the end of this week, several children will have been given a new lease of life. These heart problems have created symptoms that range from breathlessness and fatigue, to underdeveloped limbs and respiratory infections – symptoms which make it difficult to lead a healthy, active life. For the staff at Karapitiya, this help from their colleagues eases the burden even as it provides a crucial learning opportunity for them.
"In Sri Lanka we don't have a continuous education in cardiothoracic surgery," says Dr. Namal Gamage, Consultant Cardiothoracic Surgeon. Explaining that he chooses the most complicated cases for examination, Dr. Gamage says that he and his staff are keen to upgrade their own knowledge. They're also making the best use of their temporary consultants – though only 16 -18 surgeries are possible this time, Dr. Gamage and his team have asked for thorough diagnostics which will allow them to continue with the surgeries themselves. "We are being asked to look at patients that we can operate on, but we're also being asked to look at patients he can operate on once we've left," says Dr. Simpson, "it means there are as few surprises as possible when he goes in."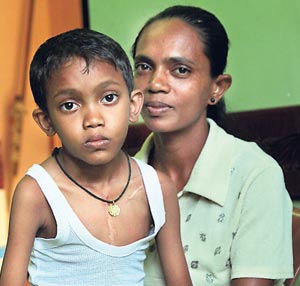 Anjana and his mother
Diagnosis aside, Dr. Gamage has plenty of other challenges. "Till last July we were doing 40% of the open heart surgeries in the state sector," he says, explaining that the ministry ordered them to cut back significantly. As a result they now have many patients on a waiting list that Dr. Gamage is struggling to attend to.
To complicate matters, he reports that there is no regular supply of medical consumables. "Medical supplies are always lagging behind," he says revealing that many families must buy their own sutures, spending up to Rs. 20,000 for a single surgery. For many of these families, the journey to Karapitiya is long. Once they get to Galle they rely on charity for their stay and for their meals. All in all, this is a rare opportunity to access cutting edge health care.
For some, this is the second time they are meeting the team from Evelina's. A significant portion of their schedule is devoted to following up on cases from their last visit here. Waiting patiently outside the examination room we find W.G Anjana. At 8 years and 9 months, he looks healthy and happy. His mother, W.A Sunethra Malkanthi is very happy to meet the man accompanying us. Jai Lameer has coordinated and raised funds for each annual trip and also contributed towards a pacemaker for Anjana. The son of a disabled soldier, Anjana has two siblings. A thick scar across his chest is both evidence of the danger he was in, and how lucky he was to get help.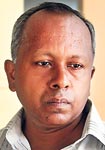 Dr. Namal Gamage
Elara Hansini Walikara's mother is hoping that her daughter will be as lucky. The child has been sedated, so that she will undergo the scan without getting too distressed. With her father away in Dubai, Elara's mother Sanjeevani has her hands full. She says her daughter's condition is so serious that the doctors have told her she will need at least another three operations. Sanjeevani is optimistic though that at the end of them Elara will have a chance at a normal life.
Dr. Conal Austin, the head of the team and the man responsible for initiating the Mercy Mission trips is in the middle of conducting a surgery. Each operation could take up to four hours, but it's not that which decides how many cases they take on. Rather it is how quickly each child recovers.
Choosing who gets an operation, and who doesn't is a difficult process, but it boils down to who has the best chances.
"The difficulty we have is that there's only so much we can do in the time we have here," explains Dr. Simpson. Still, as far as the lucky families they do help are concerned, what the doctors have done is often more than they could have ever hoped for.