You'd be hard pressed to find a Sri Lankan who doesn't know what a roti tastes like. From the disc shaped Pol (Coconut) Roti to its first cousins Gothamba, Kottu and Egg Roti, this flour based product is so popular over here that there is virtually no Sri Lankan citizen above five years of age who has never tasted it.
Such is the appeal of this universally popular food that it has enjoyed the status of a main-course meal rather than a mere supplementary food by Sri Lankans of all faiths and ethnicities for as long as anyone can remember.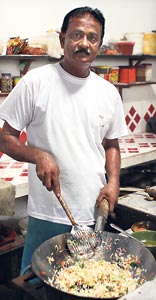 Ranjan: Chief chef, manager and owner, all rolled into one
But have you ever tasted a Chocolate Roti?
I didn't think so. A spine-tingling (in a good way) combination of chocolate sauce, custard, coffee and milk, carefully wrapped in a sheet of Gothamba, the Chocolate Roti is a roti to die for. However, as delicious as it is, this particular variant is just one of a mouthwateringly wide range of roti specialities by Ranjan Wickramasekara, proud proprietor and manager of the aptly titled "Number 1 Roti Shop" in Hikkaduwa.
Founded in 1984, this wayside joint conveniently located in the Hikkaduwa tourist beat right opposite the Amaya Resort has been serving all kinds of innovative and sometimes bizarre (again, in a good way), roti products to both local and foreign tourists for 26 years.
"The Chocolate Roti we serve here is probably the most popular among locals, especially those who come from Colombo. But there are other products we make here that are very popular among foreign tourists, like the cheese/ham and pineapple roti, for instance," says Ranjan.
You heard him right. Cheese, ham and pineapple – in a roti. It doesn't get any more out-of-this-world than that, surely. But it does. The Avocado Roti, mixed with either garlic or tomato with cheese, says Ranjan, is a favourite among regulars. (Sounds delicious, but I think I'll pass. Give me back my chocolate roti, please).
The Number 1 Roti Shop is not limited to roti-making. Fried rice, noodles and all kinds of beverages and fruit juices can be found on the restaurant's menu.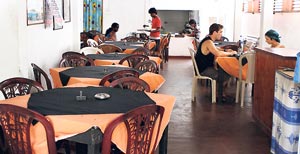 Homely fare: The simple interior of the Roti shop.
"I do most of the cooking here," says Ranjan. (Yes, he cooks, too, in addition to managing and owning the place). "We have a staff of about eight, who take turns, but someone has to be there to make sure that the food is made well," says Ranjan.
It's not without its competition, though. Several other roti joints have set up shop down Galle Road, a few blocks away from Ranjan's restaurant. But his remains the most popular in the area, insists Ranjan.
"We have our own secret recipes. And we serve good food. That's why this place is so popular," he says confidently.