Tiny Sanjana Praveen Shivanka, the 'Bubble Baby' of Sri Lanka is now being prepared for the bone marrow transplantation and received his first dose of immunoglobulins last Monday.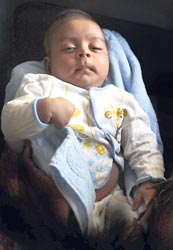 Pic by M.A. Pushpa Kumara
"Immunoglobulins are needed to fight infections," explained Medical Officer Dr. Jagathie Fonseka of the Human Genetics Unit, Colombo Medical Faculty, who is in touch with Apollo Speciality Hospital's Consultant in Paediatric Haematology Dr. Revathi Raj who is handling Baby Shivanka.
Shivanka suffers from the rare genetic disease -- Severe Combined Immunodeficiency (SCID) Syndrome for which the cure is bone marrow transplantation.
When chemotherapy starts, before the bone marrow transplantation, as Shivanka's immunity will be further compromised, he will be kept in a special room along with his mother K.B.N. Damayanthi. All this while both his father K.W. Neil Anura Shantha and Damayanthi were with him but once the chemotherapy regimen is initiated, mother and son will move into the special room, the Sunday Times understands, with Neil going into lodgings close to the hospital in Chennai.
Not only the Sunday Times but also the doctors of the Human Genetics Unit are in constant touch on the phone with Neil.
While the Sunday Times readers who adopted Shivanka wish him a speedy recovery, the fund (Account 0007283471 at the Bank of Ceylon, Lake House branch) we set up for the 'Bubble Baby' of Sri Lanka rose to Rs. 5.2 million by Friday.