It is breakfast time for some while others have just satiated their hunger and gone back to their tiny desks, chairs, books and drawings. The tiny-tots tucking into their rice, dhal, cabbage mallun and egg, do so with relish, picking up the last grains and proudly showing their empty plates to the teachers hovering around them.
It seems finger-licking good and for these 60-odd children may be the only nutritious meal they will get for the day. For once lessons are over they will be back where they usually are – not in a cosy home but on the streets.
They are the children of street-people who abound on the highways and by-ways of Colombo, begging for a living at junctions, near temples, churches, mosques or kovils.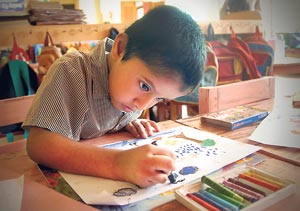 A child engrossed in his work of art.
Now for half-a-day, they forget the cruel and hard life they endure without a roof over their heads, essentials like water and toilets and food to fill their rumbling tummies. Clad in their smart blue shorts or skirts and blue-and-white pin-striped shirts, with hanky pinned to keep faces clean, they are a far cry from the waifs we see on the streets.
Suddenly, there is a rush to the entrance of the large bright room hung with vividly-coloured "works" of art and handwork. The knot of children are vying with each other to fall at the feet of their benefactor-monk and seek blessings, some without rising for a long moment.
This is Lakvidu Viduhala, down a busy road in the heart of Borella and Ven. Elle Gunawansa Thera has come to see the children he has taken under his wing, patting them on their heads and asking after their health. The administrative work must be attended to as well and he is given this and that list with the needs of this pre-school which caters to children between the ages of three and five years spelled out.
Back at his Dharmayathanaya behind the colossal Buddha statue right opposite the BMICH, Ven. Gunawansa is upset. He has forgotten to give the children the tin of biscuits he took with him.
He recalls how he became interested in the plight of the "veedi daruwao" (streetchildren). Under threat for his strident views about the war, during the height of the conflict, it was in the dead of night that he ventured out to mobilize the people to be the eyes and ears of Colombo city against the scourge of bombs.
Street-vendors such as those selling apples, grapes and oranges, other hawkers, beggars, pickpockets he spoke to, urging them to be vigilant, he says, explaining that was how the city escaped. It was also on such forays into the city at night that he saw children of all ages sleeping under awnings or in the open at street-corners and vowed to "do something for them". Most street parents needed the children around and earned a lot of money because of them.
His hopes for the streetchildren became a reality about two years ago when he started Lakvidu Viduhala with unstinting support from the police, especially Colombo Division Senior DIG N.K. Ilangakoon.
"We provide the children everything, from books and pencils, to clothes and shoes and food," he says, all on whatever donations he gets and the support of the Dharmayathanaya Arakshaka Sabhawa, a government-approved charity, incorporated by an Act of Parliament.
When they came they were mouthing bad language and had not seen water touch their skins. "The change is immense," he says, from sirith virith to cleanliness. "Podi vinayak thiyenawa," according to him which has been carried back to their parents, resulting in a change in their behaviour as well.
The children are from all races and all religions. Pathale bihiwenne kohenda, asks Ven. Gunawansa, questioning from where the underworld comes. "It emerges from the street-people. So to put an end to that we must deal with the street people."
Pointing out that some world leaders have come from humble homes, he sends out a national appeal to parents who are either killing or abandoning their children to hand them over to him. "They kill or abandon because questions are asked, but I will ask no questions. Give your children to me and I will look after them," he says, adding that loku illakka one ne (there's no need for high targets) from among these children. If two become "someone" his work would be vindicated.
However, he needs help, for Ven. Gunawansa is seeking an abandoned house, a closed school or run-down building where he could set up a hostel for these children so that they don't need to go back to the street.
"I have asked the government but there has been no response yet," he laments.
Want to help?
Anyone who wishes to help Lakvidu Viduhala, may send their contributions (which are exempt from income tax) to Account No. 078-1-001-4-2268370 at the People's Bank, Borella branch.
For more information please contact phone: 011-2691865; fax: 011-2665595; e-mail: dharmayathana@sltnet.lk or mail: 381, Bauddhaloka Mawatha, Colombo 7.