Niloufer Peiris is fond of quotations. All her favourite sayings surface in her writings, on her walls and posters and maybe none resonates more with her at this time than that of Chinese philosopher Lau Tzu -'a journey of a thousand miles must start with one step'.
That step was taken in 1993, not long after she had returned to Sri Lanka after decades abroad, making her way as a dancer and then as a teacher. Today, in the stylish modern building in the heart of the city at Hyde Park, Niloufer would be the first to admit that it has been a huge struggle. A struggle to bring to reality a vision she has had in her mind, a deep-seated need to have something tangible where young dancers could take their first steps just like she did years ago.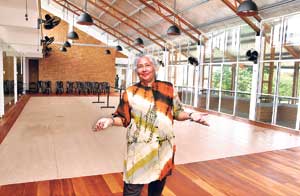 Inspiring space: Niloufer inside the dance studio.
The stumbling blocks were legion. But the obstacles and pitfalls notwithstanding, Niloufer had determination, perhaps the same innate resolve that saw her, an Asian girl gain a place in a Western dominated ballet school at a time when inclusivity was not a buzzword. But after years of planning and effort, innumerable hours on site at 81, Hyde Park Corner, there in solid form is the building which isher contribution to the arts in this country.
The Nelung Arts Centre is a reality – and from its spacious studio to the airy atrium and open-air theatre this is the multicultural arts centre she had dreamed of, a place where gifted young artists can rehearse, perform and be taught- a platform for creativity.
Designed by architect Hiranti Welandawe, the building is on four levels, with all the components she had in mind- the dance studio, an atrium, office space, restaurant space, parking carefully planned, the building itself environment friendly. Niloufer enlisted the help of the Moratuwa University's Department of Civil Engineering as special project advisors and with the use of earth coloured eco - bricks instead of the normal clay ones, laminated timber beams and other local building materials, what stands before us now is a building well equipped to fulfil its objective as an arts education centre.
The Centre is dedicated to her parents. Father Eustace Pieris born to wealth with an immense love for the arts and astrology however could not achieve his own dreams and was determined that his only child would not lack for direction and support. Niloufer's mother Linda loved music and dance and when they moved to India, as a child she saw her mother dance with that celebrated exponent of Kathak Ram Gopal. When she decided she loved classical ballet, her parents did not stand in her way. After basic lessons in India under an English teacher who had initially turned her away as she was not white, she was adamant that she should go to England to become a dancer.
Her uncle, the painter Harry Peiris encouraged her parents to give her the chance and so they moved from the Indian summer to the English winter for Niloufer to join the Legat School of Dance. She stresses that she was not a born dancer- she had bow legs and flat feet as her teachers critically pointed out, and at 13 she was older than most of the other students but with discipline and rigorous training, she made it, going on to the Royal Ballet School, to Paris and then, on stage in Lubeck, Wuppertal and Dusseldorf in Germany living her dream.
From dancing she moved to teaching-after training with the Royal Academy of Dance, London which encouraged dancers to go into teaching. She started off at the John Cranko School in Stuttgart and then went to Israel where she spent many fulfilling years. It was only the intensifying Middle-East conflict and her mother's increasing ill-health that brought her back home. In 1992 she founded the Nelung Dance Academy which has since trained students for RAD exams.
A strict yet stimulating teacher who instructs not just in pointe work and jetes but also fosters a holistic approach to the body, she envisions the Nelung Arts Centre as a place where teachers of different disciplines can offer their expertise, making it a hub for all manner of arts related activities- art, music, dance, drama, mime, painting and design.
For years, she has had to hold classes in varying locations, from the halls of the Girls Friendly Society to the Dutch Burgher Union and so there is much satisfaction that her dancers will finally have a proper studio complete with wall mirrors and a sprung dance floor that she had put in - with advice from tap dancer Shannon Raymond.
"Why should parents have to send their children abroad to study," she queries, pointing out that our Asian neighbours all provide quality arts education and it is high time we moved in that direction too.
Every child deserves a chance, she says frequently and that has been her constant hope that the centre will serve as a place where talent and dedication can find expression and a future, an aim not so easily achieved in a country where patronage of the arts is still miserly and glitzy commercially-oriented shows more favoured.
Ever practical, Niloufer affirms that 'arts is good business'. The centre has rentable spaces and with its convenient location next to Arpico can also house a health-food restaurant so that people can drop in after work to maybe have a bite, watch a dance rehearsal or even catch a show, she says.
At a time when most would be well into quiet retirement Niloufer is looking forward. Enrolments for her new structured classes in classical ballet begin tomorrow, September 6 and she's hoping a new generation will make full use of the facilities she has provided. For her, the journey will go on.
"It's always a pleasure to be with the young and hear their thoughts and ideas…sometimes very amusing and often very wise. It has kept me, hopefully young and mentally flexible," she muses. She recalls the words of her teacher Madame Legat who once told her "You go back to your island and teach little girls and boys to dance, to do what you like to do."
"I remember visiting my uncle Harry at his beautiful house (now the Sapumal Foundation) and him asking me ' what do you want to do with your life' . He was a lifelong support and inspiration. Hopefully the Nelung Arts Centre will provide a haven for anyone wanting peace, joy, education, inspiration or simply to sit and watch the sunset."