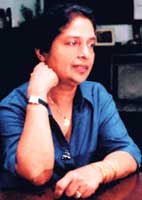 Jayani Pinnawale
Jayani Pinnawale's exhibition of paintings 'Reflection in Colour' will be held at the Lionel Wendt Gallery from September 9 to 12.
A senior officer of the Administrative Service Jayani has served as additional secretary in a number of ministries and held several positions in the government.
She was deputy ambassador and acting ambassador in Rome. An old girl of Visaka Vidyalaya and an honours graduate from the University of Peradeniya, she has held several exhibitions too.
'Apeksha' Jayani's first book will also be launched on the opening day of the exhibition.
It tells the story of a young girl who has courageously faced life in spite of many obstacles and tragedies.