Chandima Swarnapali's name was changed to Susanne Maria Chandima when she was taken to Sweden as an infant in late 1979. She grew up happily in Sweden for 31 years, receiving the love and care of the Swedish couple who had adopted her. But deep within her was a need to find her biological parents and she was constantly in search of them.
Having completed university and found employment in Sweden, it was a momentous occasion for Susanne when she returned to Sri Lanka last week for a poignant reunion with her biological mother, a reunion she had longed for and dreamed of for so many years.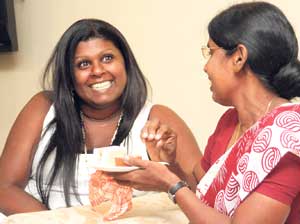 A kata (mouthful) from Amma: Susanne with her mother Swarna Kanthi.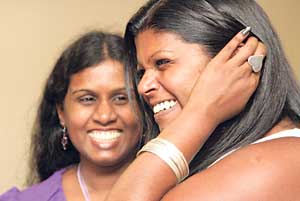 All smiles: The overjoyed sisters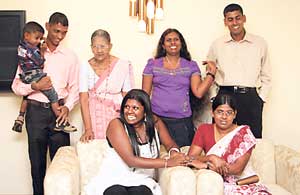 A portrait of a happy family
For her mother Swarna Kanthi Jayasinghe, it was hard to relive the traumatic time that had led to her child being separated from her. It all happened against her will, she says. When Swarna Kanthi at the age of 19 fell in love with Susanne's father, their love affair was vehemently opposed by the parents. But despite their objections, she continued to see him and became pregnant.
Her parents placed her in the Salvation Army hostel with the intention of giving her in marriage to someone else after the baby was born, says Swarna Kanthi. During that time she lost contact with Susanne's father. "After I had the baby I kept her with me for seven months. But, my parents got my signature to give my baby for adoption. The baby was given away through a court order. As a 20-year-old there was nothing that I could do. I was crying with helplessness. I was crying so much on the day my child was given away that one of the officers on duty at the courts felt sorry for me and wrote down the address of the Swedish couple who were adopting her on a piece of paper and passed it to me secretly.
"Before she was taken away, I cut a lock of her hair and kept it with me all these years in memory of her along with her baby shirts which I have carefully protected till now," said Swarna Kanthi, weeping.
But as time passed she got back in touch with her the baby's father and they married. Both of them tried to find the baby they had lost, posting letter after letter to the address Swarna Kanthi had on the piece of paper but to their disappointment, the letters were all returned.
As life went on they had two other children, a daughter and a son. Her husband died five years back, Swarna Kanthi says, but she never stopped searching for her first born, all the while checking news reports of children who had been given for adoption. Her second daughter Kaushalya was also keen to locate her lost sibling. "We decided to publish our story in the newspapers giving the details of the address I had with me," Swarna Kanthi says adding that it was this move which finally helped them trace her daughter.
The report was picked up by the head of Bio Parents Locate, Rohan Ratnayake, who was instrumental in locating Susanne, by searching for her Swedish parents' address and contacting her.
Ever since the connection was made, Susanne has been in constant touch with her family in Sri Lanka either over the phone or through the internet. As she walked through the airport arrival gates on Tuesday, she was overjoyed to see her mother, brother and sister waiting anxiously for her.
The happy reunion took place at the Bandaranaike International Airport; Susanne's mother embraced her in tears while her siblings hugged her – a family together.
Swarna Kanthi overwhelmed with emotion says she couldn't explain how she felt when she first saw her long lost daughter. "I feel as if she came home after staying abroad for like two or three years. I never saw her as a child who was raised by someone else. She looks like her father and sister… Quite tall and big made like her father. I showed her the lock of hair I had kept and she cried on seeing that," she said.
Though not very fluent in Sinhala, Susanne can say amma, nangi, malli and bohoma isthuthi in Sinhala–words she has picked up from her sister during their chats on Skype.
Susanne too had been searching for her mother for the past 11 years. "My family in Sweden was very supportive and they always encouraged me to find my mother in Sri Lanka. I had finished my studies, and I was planning to come to Sri Lanka this Christmas but my mother found me before that," she says.
She has come with gifts for everyone and hopes to make the maximum of her time with them. "I am hoping to come to Sri Lanka very often to be with them in the future and I invited them to come to Sweden too. I also need to give them something back- I need them to be comfortable in life. So I am going to see what they need in their home as well," she says. But the greatest gift for them all is being together.
The search: The role of Bio Parents Locate Colombo
Bio Parents Locate Colombo, a non-profit charity organization comprising a team of professionals assist Lankan children who have been taken abroad for adoption to reunite with their families. It was Susanne's story that prompted Rohan Ratnayake, the President of Bio Parents Locate Colombo to establish this association.
Rohan, a citizen of Norway on seeing the name and the address in the paper had quickly searched the telephone directory of the city mentioned. "Since I knew the language I figured that the surname was incorrect but the name of the city mentioned was correct. Going by the details, I was able to find the name of the father in the search engine and later the daughter's name too. Then I contacted her," Rohan said.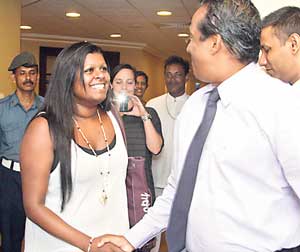 Susanne greets Rohan Ratnayake
Adding that he has found there are about 35,000 adopted Sri Lankan children in countries like Sweden, Rohan says many are the instances where these children have failed to locate their biological parents despite their attempts. "Some have been misguided or made to pay when they come to Sri Lanka in search of their parents. I discussed this with some lawyers, doctors, social workers and various professionals in Sri Lanka and set up this organization."
Bio Parents Locate has been successful in two more cases; finding the parents of a Lankan girl who was adopted by a German couple in 1983 and helping a mother from Kegalle trace her daughter in Sweden. They have 20 requests from children in Sweden to assist them find their parents, Rohan says.
Bio Parents Locate can be contacted on tel; +94-773-830534. Email; info@bioparentslocate.com web; www.bioparentslocate.org