There is a lot of media hype about the torture of housemaid Batuwita Ariyawathie while in Saudi Arabia. As a result there could even be a 'diplomatic incident' with the Kingdom of Saudi Arabia. Before creating such a situation, it is, in my opinion, necessary to evaluate Ms. Ariyawathi psychiatrically. From the media reports, I find there are a few 'things' that don't 'click' with regard to the torture story.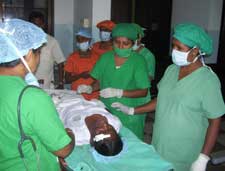 Ariyawathie being wheeled out after surgery
While it is very possible, and understandable, that she did not tell anybody in Saudi - even the authorities there - about the 'torture' out of fear of further victimization, it is curious that she did not, on her return, inform her immediate relatives, or even the doctor that she had been tortured by her employer who is supposed to have inserted heated nails into her body. The nails were discovered by the doctor only after an x-ray.
This is not, expectedly, what one would consider 'normal behaviour'. The x-ray of the hand shows nails embedded through the web between thumb and forefinger – a common and 'safe' place for 'self-inflicted object embedment'. Furthermore, from the media information, all the nails embedded in her hands are in her left hand. From this, I derive a conclusion that she is right-handed. This conclusion, of course, has a 90% chance of being right even by chance as, on the average, only about 10% of any given population is left-handed. But if you chart all her other body points where nails had been embedded, I make a calculated medical guess that they are all in sites that are approachable by her right hand.
Taking all this into consideration, I am saying that there is a distinct possibility that she has 'Munchausen's Syndrome'. There are more severe and extreme multiple self-inflicted injuries in Munchausen's Syndrome reported in the medical literature than those found in Ariyawathie. I wish to make it clear that this is not to say that she has not been tormented or tortured by her employer in Saudi Arabia. It is even possible that she self-embedded the nails as recourse to escape from/leave her employer. (In which case, it is strictly not Munchausen's Syndrome.) It is also not clear (from media reports) whether her doctor/doctors considered a differential diagnosis of Munchausen's Syndrome and eliminated it on good medical grounds. There is no indication to that effect.
If it has been considered and eliminated, I stand corrected and withdraw all my previous assertions. But if not, she needs immediate psychiatric evaluation and detailed report of her previous medical/surgical history before we communicate with the authorities in Saudi Arabia.
Susirith Mendis, MBBS, PhD, University of Ruhuna