A new scene in the tragedy of Wilpattu is being played with environmentalists strongly protesting against moves to parcel off coastal land for the settlement of fishing families while officials are quick to reject such allegations.
Something is definitely cooking with regard to the Wilpattu coastal area, the Sunday Times understands, with many meetings being held since June this year and the last one as close as Thursday, September 2, under the auspices of the Puttalam District Secretariat.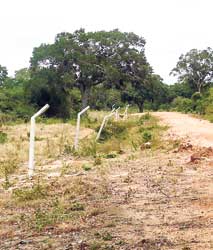 An area demarcated at Pukulam for settlements? Pic by Environment Conservation Trust
The other players are the Wanathavillu and Kalpitiya Divisional Secretariats, resettlement, fisheries, wildlife and navy officials as well as community fisheries societies, it is learnt. Under the spotlight are three important coastal areas of Wilpattu - Wellamundel near Karuwalakuda, Pallugaturai and Pukulam all having a bearing on Block 5 of this National Park. Pallugaturai is cited as one of the most beautiful places in Sri Lanka where ecotourism could be promoted.
Going into the past, the Programme Manager of the Sri Lanka Nature Forum Sajeewa Chamikara said that migratory fishermen had been earning a livelihood in these three areas from madel fishing but they had come in their boats along the coast, put up temporary huts for several months of the year and left with their catch.
"These were never permanent fishing settlements," he stressed, explaining that they always came by sea and left by sea. Now, he warned, officials were in a hurry to block out land, 10 perches each, and permanently settle not only the fishermen but also their families here.
Sajeewa said that under the first stage of this disastrous plan 130 families are to be settled, with the navy being given the mandate of providing the infrastructure. Only seasonal fishing was allowed, with the fishermen setting up temporary wadi along the beach, living a spartan life and leaving once their job was done, pointed out another environmentalist, but this came to a halt in 2004 when the conflict heightened. He queried why the officials were in such haste to set up permanent settlements.
"Isn't Wilpattu already embroiled in controversy, with a brand new road, nay a highway being opened to the public in total violation of the law," asked a wildlife enthusiast who recalled seeing sleek leopards on the beaches of Wilpattu.
Yes, Wilpattu was famous worldwide for its leopards on the beach, said another nature lover, voicing serious concern at the events taking place at this National Park, the biggest in Sri Lanka with a unique villu ecosystem adding to its lure.
These fishing settlements are being planned while there is an ongoing battle in the Supreme Court about the new road from Eluvankulam on the southern boundary of the National Park to Mullikulam on its northern boundary and another new road hugging the coastal line of Wilpattu. Everyone knows that these roads violate the Fauna and Flora Protection Ordinance, said another conservationist, adding that to add insult to injury and complete the destruction of Wilpattu, permanent fishing settlements are to be set up.
Sajeewa details the issues. According to information that he has gathered the fishermen who are to be permanently settled at these three locations have demanded three access roads linking their settlements with the new controversial road that bisects the National Park. When these fishermen are given land and their families are brought they will have to be provided schools, medical clinics, community halls in addition to water and electricity.
From where will they get their firewood for cooking, he asks, answering with the obvious. It will be from their backyard which is the National Park which will also fall prey to them when they need meat such as venison and fruit such as weera and palu.
More questions follow in quick succession - how will they sell their catch? The malu mudalalis will come in their trucks through the National Park and there will be no system or adequate manpower for the Department of Wildlife Conservation (DWC) to control any such illegal activity.
Another pertinent issue that Sajeewa raises is the opening of an easy route to smuggle contraband including drugs between Mannar and Kalpitiya. These three points of Wellamundel, Pallugaturai and Pukulam are isolated and in the midst of thick jungle. By settling fishingfolk permanently, officials are now trying to open up these areas to destruction and violation, Sajeewa said.
While wildlife officials were divided in their stand with regard to this issue with a majority opposing it and only one or two supporting it without any thought of the tragic consequences to a National Park they are duty-bound to safeguard, Puttalam District Secretary Kingsley Fernando was quick to deny that land in Wellamundel and Pallugaturai would be parcelled out for permanent settlements.
The District Secretary assured the Sunday Times that discussions were on only to allow seasonal fishing in these two areas and stressed that no harm would come to the National Park. They will have to come by boat and leave by boat, he said, adding that no infrastructure will be provided to them.
Referring to Pukulam, Mr. Fernando said it was an ancient fishing village and had been kept out of the National Park boundary because of this. People have documents to indicate land ownership, according to him, but during the conflict they had fled the area and resettled in Kalpitiya. They will be allowed to come back, maybe to smaller blocks of land, to prevent them selling their land to a large developer which could create problems later.
When asked about the condition that if any development is to take place in the one-mile stretch of land bordering the National Park, an Environmental Impact Assessment was mandatory, as pointed out by Sajeewa, the District Secretary said nothing illegal will be allowed to happen.
Conservationists are hopeful that saner counsel will prevail and not short-term appeasement for political mileage. This will protect for posterity national treasures such as Wilpattu which are needed for the very survival of Sri Lankans.
This is not the Old Mannar Road
What's in a name? - Everything it seems.
There have been widespread misconceptions most probably deliberately floated by those with an agenda to confuse the people about the new internal road that has been built through Wilpattu from Eluvankulam to Mullikulam, the Sunday Times understands.
"Since about a year before this road was illegally opened to the public, there were occasional reports in the media about its construction which used the words 're-opening' of the 'Old Mannar Road' or 'the A32'," says conservationist Udaya Sirivardana.
The new road to which the public has been given access is neither the Old Mannar Road nor the A32, says Mr. Sirivardana categorically, stressing that the A32 is far north of Wilpattu, from Mannar to Jaffna.
Dealing extensively with the Old Mannar Road, he reiterates that it is an abandoned cart track through Wilpattu, so-called because it had been used as a through road in Dutch times as long ago as 200 years back and probably not after, even in British times.
About half-way along this track is the Maduru Odai wetland which anyway made it impassable for about eight months of the year. Much of this track has been overgrown and impassable for decades, he said.
The new interior road which also starts from Eluvankulam on the southern boundary of the National Park follows this track for a few kilometres but very clearly veers away after that towards the coast and leads to Mullikulam on the northern boundary, says Mr. Sirivardana. Parts of this new road were cleared from time to time in the 1980s by the military but it was never used.