Following the retirement of Hemaka Amarasuriya as the long-standing CEO, Asoka Peiris has taken over as new Group Chief Executive Officer of the Singer Group in Sri Lanka. Mr Peiris, in a statement released by the company this week, said he looked forward to continuing the policies that have garnered the Singer Group so much success in the past while enacting exciting new strategic initiatives that will extend the Group's position of dominance in the future.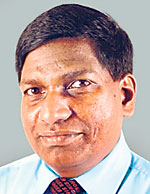 Asoka Peiris
Joining Singer Industries (Ceylon) in Ratmalana in 1990 as an Accountant in the Finance division, Mr. Peiris has risen up the ladder to many positions in the global organisation including Finance Manager at Singer (Sri Lanka), a 6-month posting to Singer Jamaica, and Finance Director until June 2008.
In July 2008, he became the Chief Accounting Officer at Singer Asia in Hong Kong and was promoted as the Vice President – Finance and Chief Financial Officer of Singer Asia. Mr Peiris has also been on the Boards of Singer companies in Hong Kong, India, Indonesia, Bangladesh, and the British Virgin Islands.
Before joining the Singer family, Mr Peiris trained at Ernst & Young, where he became Audit Manager upon completion of his training. He is a member of the Institute of Chartered Accountants of Sri Lanka and a Fellow of the Chartered Institute of Management Accountants, UK.