Veteran government affiliated trade unionist on Thursday blasted the government for its 'Chandiya' attitude that resulted in the loss of GSP+ concessions. He was speaking at a panel discussion organized by the Business Times at the Sunday Times office in Colombo. The discussion centred on the implications to the Sri Lankan economy of the loss of European Union (EU) GSP+ and how Sri Lanka would manage in the future without trade concessions when it migrates to an upper-income bracket level.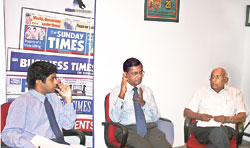 Panellists: from left-Deshal de Mel, Sunil Wijesinha and Leslie Devendra. Pic by Nilan Maligaspe
The other panelists were Sunil Wijesinha, Chairman, Dankotuwa Porcelain and former head of the Ceramics Council and Deshal de Mel, Economist, Institute of Policy Studies, Colombo. Mr Devendra said that instead of erratic statements by various Sri Lankan Ministers at various forums, the government should have engaged in negotiations as the country's labour relations are superior to many other countries and the only areas that had to be negotiated was human rights and governance.
He said that responsible ministers in the government should not have made statements that really aggravated the issue. Some ministers said Sri Lanka could do without GSP+, and it was such statements that worsened the Sri Lankan case. He said that workers and the industry should have been brought to the negotiating table and was confident that if that happened, compromises could have been reached.
"This is a good lesson for us to be prepared for the US GSP where a public hearing begins next month. We can get our act together and if we have a roadmap for implementation on worker rights, it would definitely help in the US GSP negotiations," he said. But he accused the opposition of irresponsible statements on GSP+.
Mr Devendra said that before the elections a leading opposition politician, returning from abroad, made a statement at the airport saying if the then government is replaced, the EU is prepared to allow GSP+.
He said the EU moved into human rights issue at the later part of the war which meant political and human rights were essential requirements to get the concessions.
In 2005 when the labour rights issue came up, he took up the issue with international unions and they moved forward with the employers to reach a compromise. He said that in the case of human rights they could have drawn a roadmap and that would have gone a long way.
The jobs of some 300,000 garment workers are at stake and their working conditions would get affected by the loss of the concessions. He urged all parties to get together to draw an achievable road map of a 3-year duration.
Mr Wijesinha said that GSP+ is not everything but it is only a part and thus they have to look at the overall structure and see how Sri Lankan products and services could be made acceptable in the international market.
He said today international buyers are concerned with the environment, freedom, human rights and good governance and buying is connected to these issues. He said that in the global market Sri Lanka cannot stand alone and should not think after making (rash) statements that 'nobody is watching us'.
He said that the whole world is watching Sri Lanka and these buyer countries make lots of audits like employment conditions, social welfare and whether international labour laws are fully implemented.
Sri Lanka is competing with Bangladesh, Thailand and Indonesia and the quality here is slightly better. But Sri Lankan product prices are higher because the costs are very high. He said that energy is very cheap in Bangladesh and would be 1/5th of Sri Lanka's energy cost as they get very cheap gas.
Buyers would just not move out because the products are little higher in cost, because often it's about partnership and relationships with the buyers and not purely cost.
Looking at policy issues, Mr De Mel said that Sri Lanka should look at the long term perspective of moving to higher level and produce niche market products which would also give it a homogeneous identity. He said for example in coconut oil, if the producer moves into manufacturing virgin coconut oil there could be a market for the value addition.
He said that it would be difficult to compete with established products. Therefore Sri Lanka could look for emerging markets. Sri Lanka would also face challenges in terms of human resources to get the right person for the right job, which is an issue right now.
Mr De Mel said that the tertiary level education in Sri Lanka has to be improved if the country is to move to a higher level, particularly when the per capita income rises to $4000 (from over $2000 now) and the country would no longer be entitled to trade concessions and cheap credit.