Sri Lanka no longer requires Wall Street type of banks and the need of the hour is to strengthen the rural banking sector with a view to support villagers, said Treasury Secretary Dr.P.B. Jayasundera when he launched the Regional Development Bank(RDB) the newly merged entity of the country's six regional development banks in Colombo on Friday.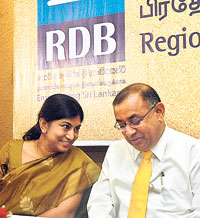 Ms Janaki Kuruppu and Dr.P.B.Jayasundara at the launch. Pic by Saman Kariyawasam
He noted that the target of the government is to create 25,000 entrepreneurs at regional level by providing financial assistance for rural youth to start business through Small and Medium Scale Enterprices (SME) loan schemes which will be implemented by 251 countrywide branches of the bank.
He revealed that donor agencies like the World Bank, Asian Development Bank and JICA have stepped in to provide aid for the RDB to implement SME loan schemes. Earlier these agencies were reluctant to assist the bank, he said. He disclosed that the Samurdhi banks have invested Rs. 17 billion in Treasury bonds and other government bonds, indicating the present resurgence of the rural economy.
Addressing a media conference which followed the launching ceremony, Chairperson of the Bank Janaki Kuruppu said that the bank will introduce new and innovative products and services focusing attention on the tourism and agriculture sectors. The combined asset and deposit base of the RDBs' was Rs.42 billion and Rs.39 billion respectively. Microfinance loans accounted for 46 % of the bank's loans, while pawn-broking loans and housing loans accounted for 30 % and 24 %, she said. About 70 % of loans were less than 100,000 rupees, she added.