SriLankan Airlines (SLA) has responded to the demands and needs of its users by deploying a world-class messaging solution designed by Microsoft, the airline said. E-mail forms the basis of the corporate–wide communication platform for SLA via which the company shares business information and collaborates globally, connecting all 44 destinations to which SriLankan flies.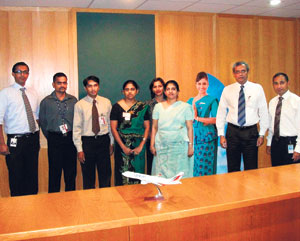 Picture shows -- Ruwan Dissanayake – Technical Account Manager – Microsoft services; Chandika Lunuwila – Senior Messaging Engineer SLA; Indika Wasala – Network Engineer (IT Infrastructure) SLA; Ms. Pavitra Karunananda – End User Computing Manager SLA; Ms. Himali Nawalage – Corporate Account Manager – Microsoft Sri Lanka; Ms. Jeevani Jayalath – Chief Network Engineer (Desktop Environment) SLA; Kamal Nanayakkara – Head of IT SriLankan Airlines, and Sriyan D S. Wijeyeratne – Country Manager Microsoft Sri Lanka
This platform integrates key business applications such as Internet Booking, E-ticketing, online check-in, loyalty member management, contact center operations, accounting and revenue management. E-mail is a key enabler for the Airline to provide a world class service that exceeds its customers' travel expectations. By deploying Microsoft Exchange Server 2010, SLA is now geared to step up its service quality -putting it far ahead of the competition, the airline said.
The solution designed with Microsoft can cater to more than 5000 users with an expected growth. "We realize high availability and better managed mailboxes with very little maintenance and administration, are the main factors we need to achieve from the new e-mail system- based on past experience," said Ms Jeevani Jayalath, Chief Network Engineer, SLA "Exchange Server 2010 is more reliable, this means that administrators have fewer issues to resolve and end users have a much better experience."
Sriyan de Silva Wijeyeratne, Country Manager Microsoft Sri Lanka said the engagement between SLA and Microsoft started more than a decade ago. Both companies have worked very closely during this period in technology adoption to support the growth of SLA.