Margaret Scarlet has led an exciting life since she left Sri Lanka in December 1993 after serving here as a `Mission Partner' of the Methodist Church for two years. Back on a brief visit last month, I was able to learn of her travels in different parts of the world since we last met.
Margaret was attached to the Colombo City Mission in Dam Street, Pettah, and worked with street children. She also helped in various Children's Homes run by the Methodist Church of Sri Lanka. When she went back home to England, she continued working as a social worker, but seeing on the BBC, heart-rending scenes of the turmoil in Rwanda in April 1994, she felt she had to volunteer her services and called the TEAR Fund UK (The Evangelical Alliance Relief Fund), in response to an advert in her church newsletter.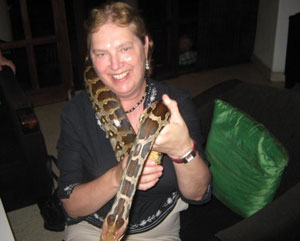 Enjoying a snake moment in Sri Lanka in May
She was first sent to the refugee camp in Goma in the Democratic Republic of Congo (D.R.C) with TEAR Fund and then she went to Rwanda to work with two organizations – Save The Children Fund UK and World Vision International - which were trying to trace families of displaced children.
Margaret said that the joy whenever they had any success, cannot be described. She told us of a baby girl who had been picked up by a woman of Rwanda who had no idea who the infant was, but this foster mother had kept the baby clothes in which the child was clad. Publishing pictures of the child with her original clothing, brought a response from someone who claimed to be an aunt of the baby's and who said the child was one of a pair of twins. She sent a picture and eventually both twins were adopted by this aunt.
In another instance, a little boy could only describe his home as being close to where two rivers met. "The social workers were familiar with the country and one of them knew exactly where the place was that the child described." She went there and was able to find the parents and thereby bring about a happy reunion.
Not all stories had such happy endings, though, and Margaret said that in the case of children whose families or relatives could not be tracked down, they were placed in orphanages or with local foster families..
Her next stop, in December 2000, was way out in the Falkland Islands and this was long after the war fought over it between Britain and Argentina (1982). The population was just 2800, she said, and it was the coldest, bleakest place she had ever seen. Margaret was there to take care of all age groups including the elderly. They have no Elders Homes as the Falklanders still believe in looking after their own at home.
Margaret was there for two years.
She then did another two-year stint in the little isle of Guernsey in the Channel Islands where, although Queen Elizabeth of England is the sovereign, this island is independent to the extent that it has its own currency (usable only in Guernsey itself), and its own postage stamps. Jersey, a neighbouring island, and Guernsey were occupied by the Germans in World War 2 and to this day, there is a big celebration every year on `Liberation Day' when, with the end of the war in Europe, the German forces were driven out of Guernsey and Jersey.
Margaret's eye fell on a newspaper advertisement asking for Christian teachers to teach English in some remote part of China. China was a country that had always seemed to beckon Margaret. So she applied to `Amity', the organization which had asked for Christian teachers and was off to a place called Baise in South West China. She taught English to students in a college. Margaret attended a registered, licensed church during the two years she served in China, but she said that Sunday Schools were strictly forbidden and no child under 18 could be taught any religion whatsoever. There was an underground church, of course, and those pastors and congregations were always in danger of being caught and imprisoned.
Margaret had been happy in China but her two- year contract ended and she is now back in Guernsey once more.
Islands seem to hold a special appeal for Margaret and she admits to our own island being one of her favourite destinations. "It's seven years since my last visit," she said, "which is too long. I wanted to come and renew old friendships and it has been good to be here." I asked her whether she had her sights set on going somewhere far away again and she said, "Who knows! But, of course, I'm not getting younger so my adventuring days may be a thing of the past. However, I'm thankful for the experiences of people and places so far removed from home. It has helped to bring a greater awareness of our all belonging to the one human family, whatever the differences of language, customs, colour or culture."