The Sri Lanka – Pakistan Friendship Association has embarked on a mission of social responsibility - 'Enabling the Disabled'. Their mission will focus on getting new state and private sector buildings to be designed and constructed in accordance with the gazetted 'accessibility regulations' of October 17, 2006 and comply with the Supreme Court Orders of October 14, 2009.
President-elect for 2010/2011 of the association Ifthikar Aziz and the committee of management believe that their responsibility and moral duty is towards 'giving back' something really meaningful to our society.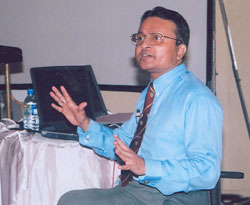 Dr. Ajith C. S. Perera
Former DIG B.M. N. Jurangpathy, a Vice-President of the Association is its Chairman and activist Dr. Ajith C. S. Perera has been appointed the Co-Chairman / Secretary of its CSR committee.
Dr. Perera, a paraplegic since 1993 from a tragic road accident, is a Chartered Chemist by profession, fellow of several internationally reputed bodies and former Test-match-panel senior cricket umpire. Now a pioneer campaigner in Sri Lanka for equal opportunity, justice and dignity of all people, his aim is design for inclusion of people (meaning construction of environments that enable so as to include all and exclude none.)
Dr. Perera seeking redress for physically disabled persons accessing new public buildings, successfully pursued single-handed a public interest litigation fundamental rights application.
He argued the need to have the disability access laws and regulations already enacted and unanimously agreed by the parliament some years ago, fully enforced and implemented. New public buildings here in the state and private sector both in the commercial, recreational, social, educational, residential and industrial categories, with key building parts, toilets in particular, should be constructed in accordance with 'design requirements' set out in the accessibility regulations gazetted on October 17 2006, he says.
The court orders given are nothing but 'Good Building Practices'. Perera is campaigning that all authorities empowered to approve building plans or issue 'Certificates of Conformity' for public buildings should refrain from doing so in respect of any new buildings which violated these orders.
Building planners, architects, builders and local authorities, as equally responsible partners, would be required to adhere to the legal requirements in regard to accessibility. Any violations of these court orders would incur punitive repercussions.
An estimated 3 million people, (ie. 15% of Sri Lanka's population), experience restricted mobility and risk being marginalised in their day-to-day normal life.
Restricted ability - mobility in particular - can result at any stage of a person's life. For different reasons, this is inevitable for all of us but it need not become an unwanted disadvantage!
Accessibility is a low cost practically feasible investment that brings rich dividends to all. It is an 'Inherent Right' of ALL of us. It is the indispensable single right and pre-requisite:
To enjoy one's basic rights to education, information, recreation, gainful employment, etc., and
To empower disabled people to integrate 'equally' with society, as they are socially, morally and legally entitled to.
The Society urges business organisations, social service entities like the Lions, Rotarians, Zonta Clubs, philanthropists and especially the electronic media, to support them.
For details e-mail: acsp@sltnet.lk or see: http://www.slpafa.org/Social_Responsibility.html