There's nothing quite like the agony and ecstasy of planning a wedding. There's all the anticipation and joy but when it comes down to the mundane details of RSVP lists and nagging the florist it can get stressful. That's where a wedding planner comes in. They're a strange new breed – creative, endlessly patient, amazingly well connected – they've made it their profession to earn and then hold your trust. In some ways, they're all about showbiz and creating that one perfect day for you, free of worry. So far they've been the domain of celebrity world, where parties for the elite cost millions. But there's a fledgling new generation that has a different approach.
Sonali Ratwatte's most effective publicity is through a ripple effect: word of mouth brings her new clients. Over the course of researching this piece, she is one of five people I speak to: Janice Hakel-Ranasinghe has planned close to sixty weddings, and now has it down to a fine art. 20 years in Paris have given Visaka N. Abeyratne a deep appreciation for the lush beauty of Sri Lanka – and she now makes a living convincing her clients that there's nothing quite like an island wedding. Having worked with the big hotels in the city, Uzmaan Ghouse and his partner Iyanthie De Silva launched their own event management company – weddings are their speciality. Of them all, Haadia Galely has been in the business longest – she prides herself on having a team so tight, that a wedding would run smoothly even if she weren't there.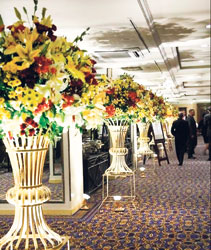 Sonali (sonaliratwatte@gmail.com) plans weddings in her spare time. She devotes her weekdays to her job as a financial analyst, and puts her head for numbers to good use when juggling schedules and wedding budgets. As you'd expect, she's the soul of pragmatism, but she knows a thing or two about dreams. "Most brides grow up knowing exactly what they want," says Sonali, explaining that it's her business to help them get it. Wedding planners are not allowed to be divas instead they must always be tactful and efficient. One thing is clear, people skills are essential in this business.
Gauri Kumaraswamy* turned to Sonali to plan her traditional Hindu wedding for 1000 guests. "I was working and I just didn't have the time," says the new bride.
But not every wedding is as grand. Do you still need a wedding planner? It certainly makes things easier, but the more important question might be can you afford one? Wedding planners are reluctant to be pinned down to one figure - you can hire a planner for as little as 15,000 or as much as 250,000. It all depends on the variables – how much of it are you willing to do yourself? How big is the wedding? How clear are you on what you want?
Shelendra Perera De Silva hired Janice to plan her wedding – she describes it as a "good investment." After having planned her own engagement party, she says she knew that a wedding would be considerably more challenging. How does a bride with limited time figure out where to go, whom to ask and how much to pay? Gauri, like Shelendra, knows that planners have an edge – "they know these vendors...they get one of kind deals." Neither woman regrets hiring a planner.
You can hire Visaka (visaka@hostincsrilanka) to hold your hand throughout the entire process, from coordinating with your dress designer to overseeing the flower arrangements at your reception. But you could also have her just step in on the last day. Depending on your requirements, she charges a flat fee. "I have to convince people I'm not going to charge them by the hour," she says laughing. A fluent French speaker, Visaka says that she attempts to anticipate everything, especially when planning a destination wedding. "I like to work backwards," she says, adding that she begins by establishing a budget, and then continues working within that.
"We don't take commissions so we are not obliged to work with any one vendor. The client then gets to choose who to go to – we always work on their side," says Janice (kairos@sltnet.lk), speaking on behalf of her team of five. Unlike in the West, where many wedding planners charge a percentage of the cost, Sri Lankans seem to prefer things more clear cut. But weddings can take on a life of their own.
What about the hidden costs? A Rs.2,500 menu can come up to Rs.3,000 odd with taxes... and that amount might not even include your welcome drinks or your table linen. If your wedding is out of town, you might have anticipated vendors charging you for delivery. "There are plenty of things you need to watch out for, and that's where someone with experience could be essential," says Janice.
Fortunately, it need not all be coldly professional. For Janice a wedding is still a chance to celebrate the community.
"It's about making it joyful, and that's about getting the people you love involved." If you have an aunt who loves to bake you might prefer her cake over that of a patisserie. Janice helps out by sharing the little details that distinguish a professional product from a homemade one: "we'll give them the tips that only the professionals normally know – what size and shape to cut it to, what paper to use etc." Want to have friends come over to wrap it up? She'll schedule a day filled with cake and yards of ribbon and wrapping paper. "It's nice to create memories," she declares.
Uzmaan (uzmaan@eventsntrendz) prides himself on handling the logistics. He says he and his partner Iyanthi are seeing more men get involved with their weddings – but it rarely goes beyond a discussion of the evening's entertainment and the menu. "Talk to them about flowers and they go bonkers," he says. Before they founded their own company, the two entrepreneurs were used to handling 20 weddings a month at a five star hotel. But now they're content to plan a maximum of three a month and have planned the nuptials of celebrities like Santhush Weeraman and Farveez Maharoof. Their connections with the hotels ensure they cut great deals for the clients, says Uzmaan.
Uzmaan and company are treading on ground that Haadia has walked for many years. At 53, Haadia is a dynamo who does things very differently. Prospective clients are not taken to visit vendors instead the whole team sits down for a chat and plans the wedding. Though an executive may take your booking, it's the operation managers, the chefs and the stewards who will determine the success of your event. "On the day of the wedding all of them are my friends, and they remain friends after the wedding...the human element is indispensable," says Haadia.
As a planner of destination weddings (never more than two a year), Haadia often takes bookings a year in advance. For foreigners wanting to get married in Sri Lanka, she provides an authentic Sri Lankan experience, "but takes it up a notch."
"We don't promise a perfect wedding," says Janice. "But if something goes wrong, we will have a contingency plan." It's the kind of can-do attitude that all wedding planners seem to have to master. After months of planning, they hope to have the wedding party just relax into one of the most special days of their lives. Once the wedding is underway and running smoothly, Visaka likes to look at the little flower girls and page boys walking so happily down the aisle.
"What do they care about the tremendous institution that is behind this? It's a great party and they're just thrilled to be part of it. Connect with the little person inside and you'll have a blast," she says, keeping things simple.
Something planned, something personal
"I don't want this entire package, I want to mix and match, to my taste," says Esther Perera *a bride to be, "this way I get to do things my way." Esther and her fiancée are planning their wedding together and have divided the tasks between friends and family.
Though Esther works full days, weekends are devoted to bridal business. Though it might be more stressful, putting together your own wedding can make it an intensely personal, unique event.
It doesn't mean you have to do it alone. If you look online you'll find plenty of sites that will offer you free advice; ditto for wedding magazines. If you want to organize your own wedding, educate yourself.
Make up an appropriate budget and stick to it. Prioritise your spending so you don't waste it on something you don't really want. Meet more than one vendor so that you have something to compare with. Follow up on their progress regularly.
Above all make lists – lists are the friends of wedding planners everywhere. Think your ceremony through down to the smallest detail. Envision it. "Then add some small element – something you can see or hear or feel or smell or taste – that adds to it." It's as simple as that, says Janice.
* name changed to protect privacy