Not much has been written on filmmaker Dharmasena Pathiraja - at least not in English. 'An Incomplete Sentence' is a NETPAC (Network for the Promotion of Asian Cinema) publication on the Cinema of Pathiraja who has been identified as "the missing link that explains how the classical art of Lester James Peries evolved into a new wave of the '90s with Prasanna Vithanage and Asoka Handagamma leading the charge" , in the preface to the book.Starting with 'Ahas Gawwa' in 1974, Pathi, as we know him, has been active in the field of local cinema for over three decades directing several feature films and documentaries. He has given us a number of teledramas too. The publication sums up his achievements and discusses his approach to cinema through interviews, reviews, articles and observations.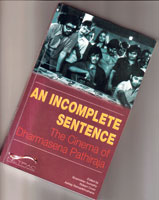 Wimal Dissanayake and Ashley Ratnavibhushana's assessment of his films is summed up in an article, 'Towards a socially engaged cinema', where he is described as "a filmmaker who is conscious of moving away from bourgeois idealism, and paving the way for a socially engaged and critically humanist cinema."
Two articles contributed by Regi Siriwardena to the Lanka Guardian (1978 & 1981) are reproduced under the tile 'Pathiraja, Politics and Cinema'. While evaluating Pathi's effort in a lengthy article, Piyal Somaratne sees two special features in his work. One is that he has been able to establish himself as a conscious descendant of all the experiences and triumphs of the struggles carried on in the sphere of culture - especially in the fields of literature, drama and cinema - in various ways and forms within contemporary Sri Lankan society. The other is the alternative cinema style which is the result of his constant search for knowledge and his innate intellect. He considers this as Pathi's greatest contribution to Sri Lankan cinema.
Pathi narrates 'his story' to Sivamohan Sumathy, recounting his days in the Peradeniya campus at a time when the country was moving into a new era where "a bilingual Sinhala professional middle-class was moving into education and important positions" in place of "the old English-speaking and aristocratic elite." He confesses that though Peradeniya invoked the ideals of tradition, high thinking, order, and learning in the classical sense, as students they had other ideas. "We were looking for a new expression, a new venue, a theatre to forge the idiom of this meeting place of ideas and activity…..We wanted to break free of tradition…:We the youth of this country were confident and yet angry; in love and yet already beginning to hate what was around us," is how Pathi puts it across. That was the mid-sixties.
Pathi broke into filmmaking with a short film - 'Saturo' (Enemies) which won the Film Critics award. He says he discovered his love for the city in his first feature film - 'Ahas Gavva' (One League of Sky) - dealing with the problems of the youth, the new generation of workers; unemployment. This was followed by 'Paara dige' (On the Run) and 'Soldadu Unnehe' (Old Soldier). In the former which he says is one of his favourites, he took a hackneyed 'family theme', a woman getting pregnant and resolved it outside the family, within the crowds of the city, in a hostel for working women and unemployed youth. He broadened the scope of the city in 'Soldadu Unnehe' "going right up to the edges, where the underworld, the prostitute, a pickpocket, a clerical servant fired from his job and a discarded soldier eke out a living under the tree." The tree becomes part of the lives of these four people and the film is about what these protagonists encounter within three days - a day before and after Independence Day and the Independence Day itself. (The four roles were played with great feeling by Joe Abeywickrema, Malani Fonseka, Henry Jayasena and Neil Alles).
Leaving urban life, Pathi says he has tried to deal with communities that have been cast as 'the other'. Switching gears, in 'Bambaru Avith' (Wasps are Here), he handled the life of fishing people. Explaining that the romance and sexual plot is central in the film, he says that it is the sexualized story of intrigue, passion and desire that propel the central narrative theme. "This may be the reason for its huge popularity among critics and the committed film-going coterie. I like it for there you are walking a tight rope between melodrama and sentimentality on one side and a distanced political critique on the other. A filmmaker must love his and yes, her subjects. One must feel an intimacy with their longings. Otherwise what you may depict may just not be true or convincing. You are then not looking within yourself, your desires," he elaborates.
After talking more of his films, Pathi moves on to discuss the filmmaker's role in general. "May be one should move away from seeing oneself as a Sri Lankan filmmaker. This is going to be difficult given the heightened ethno-political identifications we work within Sri Lanka," he says. Stressing that in an important ideological sense, film has a language and languages of its own, he feels to call it Sinhala, Tamil or Hindi is to fall into a trap and to not realize the crucial importance of technology and apparatus in the making and reception of film.
Pathi has plans for "a lot more films" but admits we are going through a bad patch financially. He, however, thinks film apprenticeship must be encouraged and the study of films must be fostered. Another worry is the lack of women filmmakers. Why are there no Tamil films being made in Sri Lanka? According to him, Tamil businesses are interested in sponsoring Sinhala films. "Complete reliance on the market will be suicidal for filmmakers in Sri Lanka. If we are to maintain our independence from the industrial empires of Bombay and Madras and Hollywood we may have to look for other kinds of collaboration. State sponsorship becomes a must here. State sponsorship brings along with it its own problems. But if the state apparatus acts independently then we may have a future," he says.
To Pathi, film-making is like "an unfinished unresolved passion, romance with a language that contains unknown territory. A quest to master the idiom. In my youth, I fell in love with this language, the idiom of life. It continues…"