"Look after the facts of the case and the law would look after itself."
Attorney-at-Law M. Mousoof Deen who completed four decades in the legal profession claims this motto was taught to him by legal luminary Dr. Colvin R. de Silva.
On his legal journey he has had seniors of the calibre of A.C. ( Bunty) de Zoysa, Dr. Colvin R. de Silva, Nimal Senanayake and C. Renganathan QC. He passed his Advocates' final examination and honed his talents under the tutelage of Dr. Colvin R de Silva and C. Renganathan QC.
While at Law College, Deen acted as an Advocate in 1969/70 in the film "Kesara Singhayo" with Vijaya Kumaratunga and Neeta Fernando.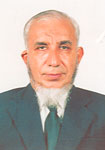 M. Mousoof Deen
Deen was a front runner in the UNP Lawyers Association in the pre 1977 period. He had been lawyer / polling agent in several by-elections and also participated in the election campaign of Dr. Colvin R De Silva in the Agalawatte electorate in 1970 with lawyers M.L. de Silva and I.S. de Silva.
On August 1, 1970 A.C de Zoyza [Bunty] noted Prosecutor in the Attorney General's Department who had retired started his chambers with Mousoof Deen and Justin Perera as his juniors.
Many were the cases that Deen had undertaken. He appeared for JVP leader Rohana Wijeweera at a time nobody dared to take up the challenge. Eventually, he filed a Habeas Corpus application in the Supreme Court in early 1971 and got him released.
Many were the murder cases that he appeared in too. One that figures prominently in his career is the case of the murder of Augustine Dias, Deputy Mayor of Colombo who was killed in a bomb attack at his residence in Colombo.
CWC President Saumyamoorthy Thondaman and General Secretary M.S. Sellasamy retained him in a large number of criminal trials, in many parts of the country, among them the Ragala Estate murder case as well as the Dunsinane Estate murder.
When well known criminal lawyer Eardley Perera was assaulted by certain officers of the Moratuwa police and 82 police officers were interdicted, Deen appeared for the police officers. He was of the firm conviction that a professional lawyer should not refuse a brief for any extraneous reason whatsoever, for if he does so he ceases to be a barrister.
As a law student Deen had won two gold medals for English Oratory, namely the T.B. Jayah Memorial Gold Medal where G.G. Ponnambalam QC presented the medal and the Sam J.C.Kadirgamar Memorial Gold Medal.
He was on the Board of Directors of the SLBC, a member of the Industrial Court and member of the Government Haj Committee. He is a Justice of the Peace and an Unofficial Magistrate.