Nethmi Waduge's love for the game of tennis began when she used to longingly watch the matches played at her school's courts from her class. Now, just a few years and tournament titles later, she has emerged as one of the brightest stars on the junior circuit.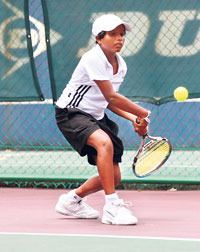 Junior Tennis star, Nethmi Waduge in action.
On the road to being the country's top ranked player in the Under 12 age group and the third ranked Under 14 player, Nethmi has snatched a string of championships. She started by taking the Visakha Vidyalaya under 9 Championship in 2006 and then moved on to claim a number of the country's open events such as the Health Club, SSC and Otters SC tennis tournaments.
Her success has not been limited to the local arena. She recently took part in two tournaments, one in Malaysia and the other in China, organized by the International Tennis Federation (ITF) and played impressively, winning a number of her matches.
Like her idol Roger Federer, Nethmi wants to be a dominant force in tennis, and with her prodigious talent along with the firm support of her parents it is more than likely she will achieve her ambition.