It was very heartening to read the letter that appeared in the Sunday Times Sports page of 2nd May 2010, with the headline: 'Ban T20 among schools' written by Mr. Bernie Wijesekera.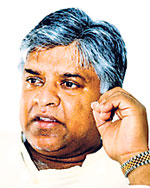 Arjuna Ranatunga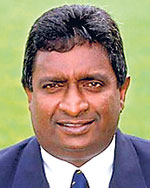 Duleep Mendis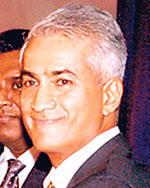 Sidath Wettimuny
His letter is apt and timely. As a person apposed to T20 cricket at school level, I feel happy and must thank Mr. Wijesekera for initiating steps to see that T20 cricket is kept out of schools in the interest of cricket in Sri Lanka.
A letter which I wrote headlined: 'Twenty 20 Cricket at School Level', when Sirasa Sports First was sponsoring a T20 cricket tournament for schools organized by the Sri Lanka Schools Cricket Association with the auspices of Sri Lanka cricket was published in a newspaper on 30th October 2008.
There I questioned the desirability of allowing T20 cricket in schools, and what the conscience of the likes of Sidath Wettimuny, Duleep Mendis and Mahinda Wijesinghe has to say about the tournament and the young schoolboy cricketers involved and those on the fringe and whether they genuinely endorse this. I also said that this type of thing should not be allowed to take place in the interest of our young cricketers, the cricketers of tomorrow.
I called on the Ministry of Sports, Interim Committee Chairman and those involved doing a bit of soul searching and taking a more sensible course of action where the young talented school cricketers are concerned.
What made Sri Lanka School Cricket Association to organize a T20 tournament for schools and why SLC gave the green light is beyond anybody's comprehension. Was the SLSCA cash strapped and wanted to replenish the coffers with the sponsorship at the expense of our budding young school cricketers. Search me, I do not know.
The comments made to Mr. Wijesekera by messrs Michael Tissera, Mahesh Rodrigo, L.R. Gunatilaka, Nelson Mendis and Jayantha Seneviratne, when they were interviewed by the writer are very clear and interesting and point in one direction only. That is Ban T20 Cricket in Schools! The most surprising fact however is that no one took a serious step towards achieving this though Jayantha Seneviratne has brought it to the notice of the SLSCA without yielding any positive result.
I am sure past cricketers like Sidath Wettimuny, Duleep Mendis and Mahinda Wijesinghe would surely back Mr. Wijesekera. Now that Mr. Wijesekera has taken up this matter with the Education Ministry official, even Arjuna Ranatunga, during whose tenure as Interim Committee Chairman the T20 cricket tournament for schools was organized, too should have second thoughts about the matter and support Mr. Wijesekera's efforts to have a ban imposed on T20 cricket among schools. Let us hope that it is not too late to take action to put a halt to this madness.
Let is rally around Mr. Wijesekera and others who are concerned to protect our young school cricketers from this menace, which could do irreparable damage to their cricket careers in particular and cricket in Sri Lanka at large if it has not happened already.
What have the Interim Committee of SLC and the Ministry of Sports to say regarding this?
May saner counsel prevail to save talented school cricketers from this situation. T20 cricket should be banned at school level.
I applaud you Mr. Wijesekera for the bold step taken in the right direction and hope it will bring the desired results.
Nandalal Jayawardena, Mr. Lavinia.