St Peter's maintained their winning spree and they did it style with a second half burst to record a convincing 45 points to 29 victory over Kingswood in their Singer Under 20 Division 1A Inter-School rugby encounter played at Bambalapitiya. In the process the Peterites went on to secure their sixth successive win for the season. The Peterites accumulated their points through five goals and two tries as against to two goals and three tries by the Kingswoodians.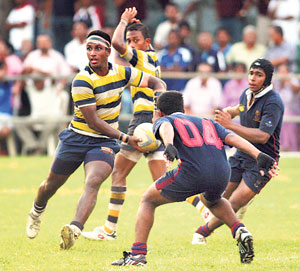 St. Peter's centre Sandun Herath is about to pass the ball making way for a another move. Pic by Ranjit Perera.
The Bambalapitiya boys played with a better understanding in the second half after having given the lead to their opponents 17-14 in the first half where they were rattled. It was Kingswood who took an early lead in the 11th minute through a try by centre Mohamed Fazli which full back Thilina Weerasinghe made no mistake with the conversion. Inspired by the try the Kingswoodians gave the Peterites some torrid times.
Their efforts bore fruit with flanker Prabath Jayalath going over for an unconverted try down the left corner flag. In this session the home team's performance was not to their potential but undeterred they made their first scoring when in the 27th burly Shenal Dias barged over off a five metre scrimmage to score under the post giving fly half Dulaj Perera an easy conversion.
Eight minutes later Kingswood increased the lead through an unconverted try by skipper and fly half Rajitha Sansoni. The Peterites continued their attack with skipper and No 8 Keith Gurusinghe being at the centre of activities and feeding his forwards which saw him handing over the ball to second centre Dhanushka Ranjan who sprinted his way for a try under the post with, again, Dulaj making no mistake with the conversion as the teams changed over.
The resumption saw the Peterites getting their act together as they rattled the Kingswoodians with two tries within two minutes with centre Sandun Herath being involved in both and Dulaj adding the extra points. The Peterites lead 28-17 at this stage. Peterite prop forward Chathuranga Mendis scored the fifth try.
Kingswood lagging behind the Peterites had some success when scrum half Mohamed Fazal helped them decrease the lead in the 15th minute. But the Peterites responded with a try six minutes later when Dias carried some Kingswood defenders on his shoulders for his second try down the right corner flag.
Referee: D. Nimal.