Kandy produced both an offensive and defensive exhibition to comprehensively dismantle CH & FC 55- 7 on their home grounds at Maitland Place yesterday. During the romp Kandy scored five goals and four tries. The game's try scorers were Wing Three Quarters Dharshana Ettipola, Flanker Sajith Saranga, Prop Forward Eranga Swarnatilleke, and Wing Three quarter Sanjeewa Jayasinghe. In a rather meek response CH scored a solitary goal through. Lakala Perera.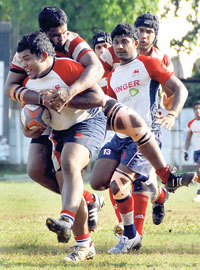 A CH & FC player trying desperately to stop the charge of one of Kandy's men. Pix by Sanka Vidanagama
Kandy was on the offensive early, charging their way through the CH half with ease during the opening minutes. The hosts finally wilted under the pressure in the sixth minute when Kandy took advantage of a weak CH clearance to send Dharshana Ettipola streaking over the line. Fly Half Saliya Kumara made the conversion.
If CH's players were on the back foot after the first try then the second one, courtesy of a blistering run from the half line by Sajith Saranga in the 19th minute, slammed them firmly on their backs. Again Saliya Kumara was on target with his kick.
Sajith Saranga was to torment the home side again with another try five minutes later, this time however Kumara was unable to repeat the accuracy he found with his first two kicks. By this time the floodgates had opened and Kandy started sending a procession of players over the try line starting with Eranga Swarnatilleke and continuing with Ettipola and Sanjeewa Jayasinghe. The score at halftime was 36-0.
Resuming the match, CH were desperate to avoid embarrassment and were able to salvage a small degree of respectability when Lakala Perera darted over the line to finish a move brimming with fluent passes and smart runs. Hassan Omar did his part by converting the try.
However CH's celebrations was short lived and Kandy immediately struck back with a try through Swarnatilleke and two more from Saliya Kumara and Dharshana Ettipola. Missing the first of these conversions, Saliya Kumara impressively converted the last two.