GUATEMALA CITY, May 29, (AFP) -Thousands of people were evacuated and airports were closed as two volcanos erupted in Guatemala and Ecuador Friday, choking major cities with ash, and leaving two dead, officials said.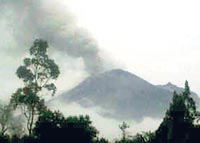 Tungurahua volcano in Ecuador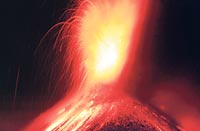 Pacaya volcano in Guatemala
Guatemalan President Alvaro Colom declared a 15-day state of emergency around the Pacaya volcano, 50 kilometers (31 miles) south of the capital. The volcano erupted again Friday after first bursting back to life Wednesday, killing two people, including a television reporter covering the event.
In Ecuador, the Tungurahua volcano exploded into action Friday, forcing the evacuation of at least seven villages and closing down the airport and public schools in Guayaquil, the country's largest and most populated city.
As the 2,552 meters (8,372 feet) Pacaya volcano exploded anew on Friday, with billowing clouds of ash and dust, Colom said La Aurora International Airport, in Guatemala City, would remain closed until Saturday "because we've got to clean the runways and surrounding areas" of ash.
The airport closures were reminiscent of the massive blanket of ash Iceland's Eyjafjoell volcano spewed out last month causing the biggest aerial shutdown in Europe since World War II, affecting more than 100,000 flights and eight million passengers.President Colom said the eruptions of Pacaya since Wednesday had killed two people, injured 59, left three children missing and destroyed 100 homes.
The Emergency Management Coordinator said between 1,700-1,900 people have been evacuated from their homes to nearby shelters in three departments affected by the emergency decree.