KINGSTON, May 29, (AFP) -Jamaica's leader faced growing criticism over a nearly week-long assault on a slum to capture a powerful drug don as decomposing bodies of civilians lay unclaimed for days.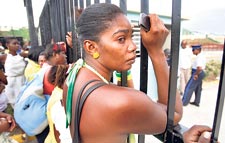 A woman waits for news of her son at the gates to Jamaica's National Stadium in Kingston May 27, 2010. More than 600 detainees are reported being held after police raids in the neighbourhood of Tivoli Gardens. REUTERS
The operation has left 73 civilians dead by official count and has divided the island, with many Jamaicans hailing what they see as a chance to fight rampant crime but some alarmed at the heavy humanitarian price.
An overpowering stench of death hung over a cemetery in the capital Kingston, where more than a dozen bodies were left in simple wooden coffins. Flies hovered over one, from which an exposed leg stuck out.
Faced with rising allegations of abuse, the military and police went on the offensive, portraying residents of the destitute Tivoli Gardens area almost as an insurgent force that had hidden explosives and girded for heavy combat.
Forces descended Sunday into the district seeking gang leader Christopher "Dudus" Coke, who is wanted in the United States on drug trafficking charges but is hailed by many residents as a Robin Hood figure who offers security and small-time jobs on some of the world's toughest streets.