KATHMANDU, May 29, (AFP) -Nepal's prime minister is "ready to resign," his spokesman said Saturday, as the three main parties prepared to form a power-sharing government after a deal to extend parliament averted a crisis.
Madhav Kumar Nepal agreed to step down in a last-minute deal to secure the support of Maoist lawmakers for a bill to extend parliament's term, which was due to end on Friday and leave the country without a functioning legislature.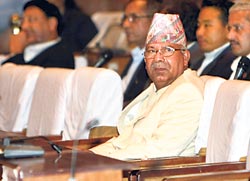 Nepalese Prime Minister Madav Kumar Nepal attends parliament in Kathmandu on May 28. AFP
The opposition Maoists won 2008 elections, but their government fell last year in a disagreement over the integration of their former fighters into the national army, and they have been agitating for a return to power ever since.
As the largest party in parliament they are likely to take a lead role in any power-sharing government, but the prime minister's spokesman said there were issues to be addressed before this could happen.
"The prime minister will meet leaders from the different parties throughout the day to discuss how to proceed," Bishnu Rijal told AFP.
"He is ready to resign, there is no doubt. He is not going to get in the way. But he wants to make sure that all the outstanding issues arising from the peace process are settled before he resigns."These include the integration of thousands of former Maoist fighters into the national army and the disbanding of the party's armed youth wing, the Young Communist League, which rival parties say is an obstacle to lasting peace.