LOS ANGELES, May 29 (Reuters Life!) - Former child star Gary Coleman, who shot to fame on TV sitcom "Diff'rent Strokes" but suffered personal troubles as an adult, died in a Utah hospital on Friday, after suffering a brain haemorrhage. He was 42.
Coleman gained stardom as the sharp-talking Arnold Jackson, adopted son of a wealthy New Yorker, in the hit sitcom that aired on U.S. television from 1978 to 1986 and in syndication around the world. His line "What you talkin' 'bout Willis?," addressed to his brother on the series, became a pop culture catchphrase.
But when the show was taken off the air, Coleman saw his Hollywood star fade, and he found himself suffering through financial, legal and domestic problems.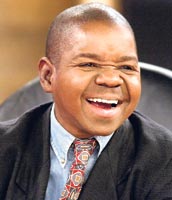 Actor Gary Coleman speaks during a television interview in Los Angeles in this August 13, 2003 file photo. Coleman died May 28, 2010 of a brain hemorrhage, according to media reports. REUTERS/Fred Prouser/Files (UNITED STATES - Tags: ENTERTAINMENT OBITUARY)
"We are very sad to have to report Mr. Gary Coleman has passed away as of 12:05 p.m. Mountain Time," (6:05 gmt), his manager, John Alcantar, said in a statement. Alcantar said Coleman was removed from life support, and "he passed quickly and peacefully" surrounded by his wife and other close family members.
The diminutive Coleman, who suffered from a congenital kidney disease that halted his growth, was hospitalized Wednesday night after suffering an intracranial haemorrhage at his home in Santaquin, Utah. Media reports said he had fallen and hit his head.
On Thursday, he was conscious and lucid in the morning, but in the afternoon his condition worsened. He slipped into unconsciousness and was placed on life support at the Utah Valley Regional Medical Center.
Indeed, many Hollywood stars responded by taking to social networking site Twitter, with celebrities from Janet Jackson, who guest-starred on "Diff'rent Strokes," to Ashton Kutcher and Kim Kardashian offering thoughts and prayers.
"I'm at a loss for words upon learning of Gary Coleman's passing. I want to remember him as the fun, playful, adorable and affectionate man he was," Jackson tweeted.
Born February 8, 1968, in Zion, Illinois, Coleman was an adopted son who suffered a condition known as focal segmental glomerulosclerosis, an autoimmune disease that alters the kidneys. As a result, Coleman stopped growing at a height of 4 ft. 8 in. and underwent two kidney transplants in his life.
But his size, coupled with his age, made him the perfect fit for the role of the funny, sassy and often emotional Arnold Jackson on "Diff'rent Strokes." The show revolved around a 12-year-old girl and her rich white father, who adopted the two black sons of his housemaid after she died. Arnold was 8 years old and his brother, Willis, was 12 when they came to live with the Drummonds in an upscale Manhattan apartment.
Coleman's cute face and smart mouth -- he played the role of young Arnold when, in fact, he was roughly 10 to 18 years old -- quickly put him at the centre of the show. He made millions of dollars from "Diff'rent Strokes" and from guest appearances on TV talk shows and other programmes.